Alex de Grunwald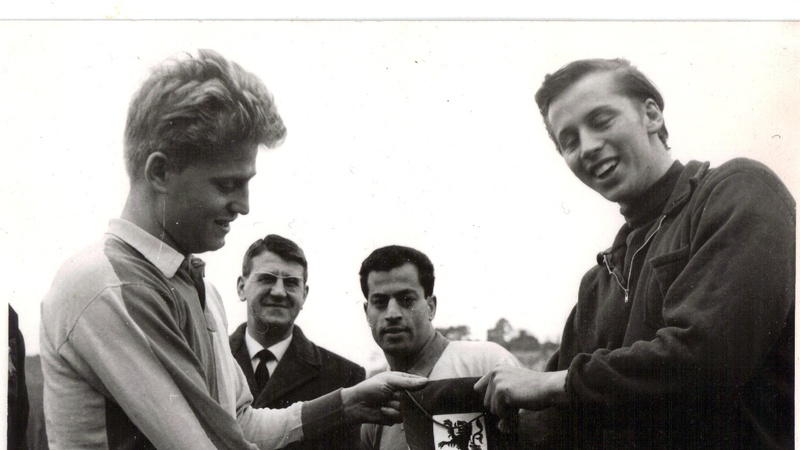 biography
Alex devoted much time and energy to promoting the Club's re-establishment, which the sceptics believed would soon burn itself out.

Following the pioneers of 1962, he and his contemporaries brought fresh impetus to the project in 1963 and Exhill F.C. became the OHAFC. Alex, an outstanding goalkeeper who gained representative honours with St Andrew's and Dundee Universities, introduced the necessary vision and ambition to create a sustainable club, strong enough to compete with old boys' teams from traditional football schools who competed in the newly-formed Arthurian League.
Although the Club was struggling to field a regular team in the early days, Alex organised two enterprising Easter Tours to Etretat, Northern France, in 1964 and 1965. On the second visit, OHAFC competed in a local 'tournoi' at Les Loges, earning £3.10s.0d in gate receipts.
The highlight of the first League season in 1965/66 was the Easter Tour to Brussels to take part in a tournament organised by Brussels University. In preparation, the OHAFC played against Red Star Ganshoren, a 4th Division professional side whose impressive pre-match work-out was in sharp contrast to the tourists' reluctance to vacate the bar. Much to everyone's amazement, OHAFC won 2-0. Alex engineered a return to Brussels at Easter 1967 to play in a tournament organised by the Brussels British Sports Club.
Alex's goalkeeping skills were highly valued, not least throughout the inaugural Arthur Dunn Cup tie in January 1967 at Brentwood where the Club lost to the eventual competition winners 3-2 in the last seconds of extra time.
In 1967/68, as Vice-Captain, he helped steer a much improved 1st XI to its most successful season to date. Alex believed in the Club's potential and felt strongly that some form of coaching was desirable as this had not been available at Harrow. His proposal was finally implemented two years later.
Now firmly established as the Club's tour leader, Alex organised the fifth Easter Tour, this time to Paris, and a pre-season weekend in Tiverton, where two matches were won against village teams captained by the local vicar. As a result of the coaching idea, regular training, directed by FA Coach Jackie Goodwin, was in place for the start of the 1969/70 season.

Following a 2-1 Dunn Cup first round victory over Old Westminsters that season, the OHAFC subsequently lost a titanic battle 4-3 to the eventual losing finalists Old Foresters, whose substitute Robin Trimby had been an amateur international. An official 12 page match programme was on sale at the John Lyon ground containing detailed descriptions of the players of both teams. Alex had compiled the information himself for the programme (priced 2s.6d) which had been sponsored by various retailers on the Hill including The London Steak House.
Alex, now preferring to play at left-back, organised Easter Tours to Amsterdam and Brussels in 1970 and 1971 and served as 2nd XI Captain in 1971/72 before turning his attention to creating another long-lasting Club activity.

In February 1973, he and Andrew Brodie summoned 41 fading stars to the Moorgate Well Club for drinks. The purpose of the gathering was to establish support for the formation of a veterans side, coupled with an alcoholic wander down memory lane. Clearly, the Club had reached a crossroads. The founder members were running short of puff for league football and new blood was in short supply.

Forty years on the OHAFC Vets are flourishing, with an extensive fixture list on Sunday mornings at Roehampton and The Arthurian League Derrik Moore Veterans Cup having been won for the first time in the Club's history in 2012.

Alex was elected a Vice-President in 1978. His legacies, the Easter Tour and Vets in particular, representing an important part of the Club's heritage.