2017 - Amsterdam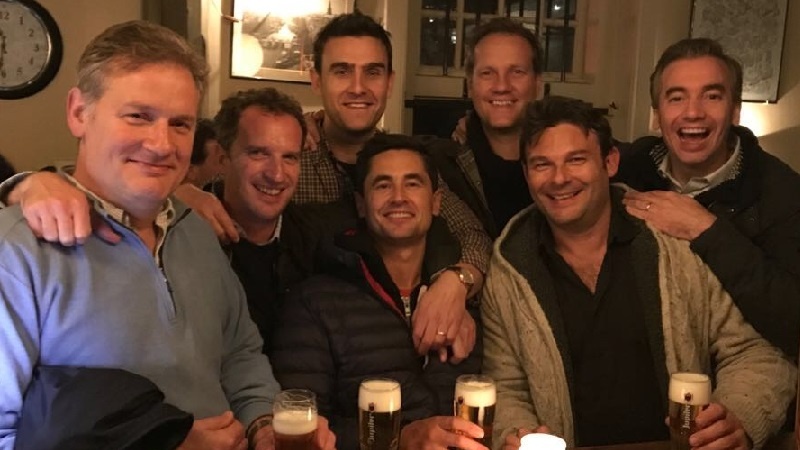 report
The first ever OHAFC Vets Tour was organised in late summer 2017 with Amsterdam, fittingly, selected as the venue for the long weekend.
The idea was a simple one: an exact replication of the traditional Easter Tour but with a squad consisting of much older, much slower and, in a few cases, much fatter players, most of whom had long since given up the pretence of being able to cart themselves around a football pitch.
As it turned out, initial enthusiasm for the project slowly waned until, with just a fortnight to go before the trip, only a hardcore sextet of former 1s players had confirmed their attendance. Several more had promised to travel but went mysteriously silent at the time of reckoning ('I changed my email address, didn't you get my email?' - sent from the original address of course).
Thankfully, Charlie Reid, who has turned out a few times for the club before, and Ben Uttley, who hasn't but fancied a weekend away anyway, stepped up to the plate and so it was a hardy group of seven who eventually sat down at the Prince of Wales in Heathrow's Terminal 4 on a Friday morning in early October.
Early discussions centred around what the new purpose of this tour would be now that a game of football was fairly impossible and what sort of eggs people wanted with their Prince of Wales 'Big Breakfast'. Answers to the former included a boating trip, a foot golf tour (something that de facto tour leader Charlie Tweddle had booked for Saturday) and Paul Molloy's 40th birthday celebration - a happy coincidence that it was indeed the day of coming of age (if not maturity) for the self-styled 'Menace'.
Once aboard KLM flight 2179 to Amsterdam, the group amused themselves as best they could. Baker slept, Reid giggled inanely at the apparently amusing aeroplane safety card whilst lining his stomach with a considerately provided slab of sponge cake, whilst Butler broke out the Times cryptic crossword and Lederman, with Tweddle's help, attempted likewise, the pair having already convincingly failed to negotiate the quick crossword.
A close battle looked on the cards as Butler mused for seemingly an age over Three Down, but it soon became apparent that several answers entered by the Lederman/Tweddle combination may not have been entirely correct. Or, to put it another way, every answer they had entered was blatantly wrong.
It was at this moment that the absent John Wyn-Evans, who pulled out of the trip at the last moment with a family bereavement, but who had bizarrely asked to remain on the WhatsApp group so that he may follow proceedings remotely, suddenly piped up with a long and particularly boring story about Bert Worthy doing a crossword on the tour to South America in 2003. Molloy scanned the message before switching Wyn-Evans to 'mute' on the group. 'It's for the best' he quietly informed his fellow tourists.
The tour party safely negotiated a short train journey from the airport to Amsterdam Centraal Station and began a half-hour walk to their hotel, carefully avoiding the multitude of bikes, trams and weirdos who littered their path at every turn.
A brief but rather unpleasant downpour necessitated a stop-off in a rather homely bar before the team arrived at the Hampshire Eden Hotel - confusingly possessor of two receptions, two main entrances and one rather flustered receptionist, who eyed Tweddle suspiciously as he helped himself to an apple from a rather ornate bronze bowl perched atop the desk whilst trying to explain that John Wyn-Evans' room was now the property of Ben Uttley and would it be possible for none of the team to have to share. Unfortunately it was not, so Baker and Reid, who have shared many a bed(room) during their long and particularly weird friendship, immediately volunteered, leaving the other five with the single rooms. Lederman looked extremely pleased with this outcome for reasons unknown.
There was little time to waste, remarkably for an OHAFC Tour, as the group had been booked on a boat trip along the famous Amsterdam canals at 6.30pm. A short stroll into town to the agreed meeting point allowed a further pint or two to be downed, along with a selection of rather tasty nibbles. A cheerful chap named Rory arrived on the scene to take the group to the boat, although after a brief chat it was tricky to ascertain exactly where he hailed from. 'Are you from Amsterdam?' Butler enquired, using his best courtroom voice. 'No no, I'm from Essex' came the reply. 'I was at uni here and didn't leave...well, why would you?'
Rory had clearly not used his time at university to the maximum, given that his new job appeared to entail greeting people and then escorting them 50 yards to a boat, whereupon he then introduced the team to their skipper for the evening, a dark-haired, bearded gentleman called David who possessed the laid-back demeanour of someone it might be imagined had spent a good length of time in the city.
Again, however, his accent was hard to pin down. But by this stage, with the day's beer to food ratio standing at 'Lots' to 'A small airline spongecake', recollections of his background remain hazy. He sounded American or Canadian, but also mentioned Sweden and that he wasn't American. Or Canadian. He seemed to know a lot about America however, which for the purposes of the boat trip was particularly worthless.
Fortunately, David proved an excellent tour guide, equally knowledgeable about Amsterdam and, perhaps more importantly, extremely tolerant of the drunken nonsense now coming out of his tour party at regular intervals. Conversations were many and varied during the two-hour long trip and included Dutch history, politics, commercial property planning regulations ('Commy' as Tweddle informed the group to his amusement) and the ride took in some most attractive landmarks: churches, 'rocking houses' (so-called because their foundations allow them to move) and Amsterdam's only central petrol station. Each passing landmark grew some appreciative 'ooh's and 'ahh's from the passengers, although after a while it became apparent that many of the 'ahhs' were actually people desperate for the loo...
As the end of the trip neared and the beer rations were down to their last, a quick count-up was needed to work out who should have the last cans. 'I've had five' said Tweddle confidently. 'Me too' said Molloy. 'Six for me' said Baker.
Somehow the maths didn't quite stack up. 24 cans between seven people did not equate to five or six beers each. especially when there were still three to be drunk.
By this stage people were too drunk and too wet to care: a mid-cruise downpour had left the seven hankering under some thoughtfully provided cashmere blankets. The blankets were warm, which was excellent, but not waterproof, which was disappointing, especially for Tweddle, who folded down his umbrella carelessly, causing a stream of water to penetrate his cover and soaking his jeans. It would be a while before he would be able to do any window-shopping...
As the boat turned into the home stretch, David began a tale about the 'Seven bridges' of Amsterdam, only to be rudely interrupted by an indignant Tweddle. 'But there's way more than seven bridges here...look - one, two, three, four...'
The boat engine suddenly whirred into life and the craft sped hastily to it's docking station, our host having clearly reached the point where he'd heard enough.
'Where are you guys going tonight?' he asked.
'We don't know yet...what about you?'
'Oh...er, I'm meeting some friends in a bar on the other side of town'
'Is it good? Can we come?'
'Er...you guys wouldn't like it'
With that David sped off, no doubt nervously looking behind him to ensure he wasn't being followed by seven dishevelled Old Harrovians desperate to find out if they would or would not like the bar their new best friend was going to.
It was time for a late supper and a short walk into town through the more 'interesting' parts of Amsterdam brought the group to a meat-lover's paradise called 'Cannibale Royale'.
Here, it was burgers all round with most people opting for Le Classique or the slightly more exotic (it had pulled pork on it) Le Cannibale Royale. Baker was desperately tempted by the watermelon salad but even he could see that a large bowl of piping hot chips was the only way forward.
Once fed, the group headed off into the night for a tour of the bars and clubs. First up was the rather cosy Café du Sluyswacht on the banks of one of the canals, the group finding tables inside and out depending on the intermittent rain.
Back in the centre of town, Butler was fascinated by a fake raccoon tail he had seen in a shop window. 'Rather an odd display case for it though, isn't it?' he mused to himself.
The group headed in to Smokeys Bar in Rembrandtplein where the atmosphere inside was, unsurprisingly, smokey. Not for the last time on tour, the group found themselves seated at long wooden benches alongside some fairly odd-looking characters, although here the similarities with Wagamamas ended.
After several stops in some rather dubious looking establishments, the group alighted at their final destination for the night, the aptly titled Prime Club. Standard operating procedure followed with the group huddled together in a small corner of the club ignoring any girls who approached (in truth several did approach but this may have been simply due to the fact that the group were standing next to the cloakroom). After the allotted hour-long 'awkward' period was over, Baker moved swiftly to stage two: frenzied dance-off with total stranger, his furious knee-jerking, a staple move perfected over many years, drawing admiring glances from many.
One by one the group headed off into the night air for the short walk home, Butler's route conveniently taking him via a kebab shop and, rather suspiciously, the oddly-displayed raccoon tail.
Day two dawned with heavy rain in the air and a heavy lamb shawarma still in Butler. After breakfast at the Opera Café, the group clambered into a rather smart Mercedes minibus for the half-hour trip to Foot Golf, Amsterdam's premier footgolf venue with the tagline 'Always a goal in one experience' - they must have been thinking about OHAFC goalkeepers when they wrote it.
The journey itelf was unremarkable until the destination neared. A sign clearly suggested turning left for the Foot Golf but at the end of a long and bumpy track all that could be seen was a large wooden hut and approximately thirty dogs - many of whom were being put through their paces around an assault course. 'Hmmm, I'm not sure this is right' thought Lederman as he studied a rather large Dalmatian weaving dextrously through a series of tall blue poles.
The wrongness of the location was abruptly confirmed as soon as several of the team had set foot outside the taxi. 'No no no no' yelled a rather old gentleman, hastily pacing towards the group, a look of grave concern etched on his face. Clearly this was not the home of Dutch Foot Golf. Or, if it was, it was a very weird and rather unfriendly home. (Some further investigation by Charlie Reid back in London revealed we had actually unwittingly set foot in the Hondenschool Happy Feet). Undeterred, the group climbed back into the taxi and set off again. This time ignoring the sign to the Foot Golf and instead turning up an unmarked path, a smart wooden pavilion hoved into view.
Foot Golf Nederland, despite the near torrential rain now falling, looked a suitable place to distract seven hungover Old Harrovians for a few hours. The 'clubhouse' had beers and chairs and interesting toilets, with a lifesize Ronaldo poster on the front of the Men's and a US women's national team player on the front of the Ladies - nobody knew who she was, but all agreed they would be delighted to find her actually in the toilet. After a brief explanation of the rules, many of which were not fully understood, the team headed out for the 18 hole course. Two groups were formed, Butler, Reid, Baker and Lederman in front, with Tweddle, Uttley and Molloy behind.
The course itself was fairly rudimentary but with tight enough fairways and sufficient obstacles to keep everyone entertained and on their toes. The holes were not long, the premium was on accuracy and the 'money shot' - passing the ball into a sunken concrete bucket at the end of each hole. There was a small canal through the middle of the course which only came into play on a couple of holes. This didn't stop Lederman twice finding the water and having to put up with taunts of 'second touch always a fishing pole' as he gingerly tiptoed down the steep banks in search of his wayward tee shot.
Two holes provided neat diversions to the norm: the 13th saw the concrete bowl actually raised from the ground forcing players to chip in - something only a couple managed to do before their allotted ten shot maximum; and the closing hole which required a tee shot over a tree trunk, a second over the canal and a third into a net between a 'V' formed by the branches of another tree trunk. Again this proved beyond most of the gang, Baker becoming increasingly frustrated as every effort bounced slightly further away from where he'd been shooting from.
Uttley decided he needed to cool down for a bit so took an early bath, unceremoniously slipping over in a huge puddle on one of the fairways to much sympathy from Tweddle and Molloy.
Back inside the warmth of the clubhouse, the scores were tallied and Lederman declared himself the winner, ahead of Baker and Molloy. Further ice cold beers were handed round, although many of the group were by now sodden and shivering. Brightly coloured shots then followed as the clubhouse manager did his best to raise spirits. Molloy quickly lowered them again by choosing an exposed corner of the bar to get changed in, exposing his rather unflattering buttocks to several disappointed Dutchmen.
After Baker had unsuccessfully tried to take a photo of the dog training course from the taxi, and following a quick shower and change back at the hotel, the group headed for a late lunch at Wagamamas, conveniently located directly across the road from the hotel. Whilst the food was good, the news was not: KLM had suddenly decided to cancel the return flight home without explanation. Thankfully, travel expert Ben Uttley ('I go on a lot of aeroplanes') was at hand to put everyone's mind at rest with some useful pages of EU legislation he quickly forwarded onto the group in between large mouthfuls of chicken gyoza.
'We can get a free trip home and £250 of compensation' he stated rather assertively. Everyone checked their phones, although no-one had any intention of reading the nonsense Uttley had just forwarded.
'How do we do that then?' asked Tweddle.
'Haven't you read my fourth email?' an increasingly frustrated Uttley enquired.
'No' came the reply in unison.
Thankfully, in times such as this it helps having the man who had to babysit the Hoffen brothers for fourteen years as skipper of the OHAFC 1st XI to hand.
A quick call to KLM headquarters and Baker had sorted replacement seats on a BA flight back to Heathrow at almost the same time as the original flight had been scheduled for.
After a particularly boring half an hour sitting in Wagamamas trying to check in on the BA app (Baker undid much of his good work by being particularly dull here, moaning repeatedly that he had no reception, no signal, his roaming sequence was out of synch with his Euro-transmitter etc), the group headed off into the rain again for their first taste of an Amsterdam tram. And not just any tram either, but one of the top ten tram rides in the world, according to travel expert Ben 'Alan Whicker' Uttley ('I read an article about them, I think this is the fourth best tram in the world'). Everyone quickly moved to the other end of the carriage, not wanting to hear what numbers one to three might have been...
The destination was a nondescript office block on the outskirts of town housing the rather grandiosely titled 'Room of Riddles', an escape room Uttley had discovered, no doubt whilst reading an article on 'The Top Ten Most Interesting Office Blocks in Amsterdam.'
Inside, a bespectacled blonde Dutch girl called Marta welcomed everyone in and explained the nature of the game. As with the Foot Golf earlier, much of what was said was ignored, most people showing far more interest in the jar of boiled sweets left temptingly in view.
'You have one hour to get out' were the last words Marta spoke, as the team headed inside a rather small, dark room containing several safes, a desk, a large red ornamental bird and, to Tweddle's delight, a side room solely consisting of a ball pit filled to the brim with soft silver balls.
It took a whole but eventually the group seemed to get the hang of what they were supposed to be doing, all except for Tweddle who remained motionless in the bottom of the ball pit. 'I can't get out so I thought I would stay in a bit longer' he helpfully informed his teammates, as they frantically tried to solve the puzzles in front of them.
With time running out, the final puzzle was revealed. 'Add up the numbers behind the bear's head' said the final clue.
A metal animal head hung in front of a whiteboard covered in numbers.
'That's not a bear, that's a wolf' said Tweddle, clearly earning the prize for least useful team member inside the room. His comment did spark some debate however, with the bear head indeed looking more like a wolf, a jackal, or even a hyena. 'Do we add up the numbers behind the head or all the numbers?'
Nobody had a clue what was going on. Things didn't become much clearer once the door had opened and Marta had taken five minutes to explain the solution. 'It's impossible to add up all the numbers so you have to guess.'
This was met with some disappointment from the group, who wondered why they had spent an hour wasting valuable drinking time (and going on the world's fourth best tram ride) only to be asked to guess at a large number in order to win fifty euros.
'I guess my boss doesn't want anyone to win the money' proffered Marta, somewhat unhelpfully.
Back in the foyet, Marta tried to console the group by rating their performance as very good. 'Not many people even get to the end so you have done well. One guy even tried to climb out the window, he thought that was the way out.'
At this point, Ben Uttley tried to repay the favour with his own amusing story he had told the group earlier in the day. 'I lost my wallet earlier,' he explained to Marta, 'but then I looked in my pocket and found it.'
Marta waited for the punchline but there was none. 'Wow', she said, 'I was expecting something longer and much more spectacular.'
Uttley was forced to admit it was not the first time a girl had uttered those words to him...
The group returned into town aboard the tram, Butler and Baker finding the journey less than the spectacular one they had been promised and falling fast asleep. Reid took advantage of the moment to take some photos and convert them into some rather bizarre abstract art.
After a burger bar and Wagamamas, Tweddle quite rightly had booked the group into a traditional Dutch restaurant for Saturday night. Mata Hari was a smart, bustling establishment with a sweeping staircase leading up to the first floor and an eclectic menu containing items never previously seen before on an OHAFC tour: 'smoked eggplant salad', 'hazelnut dukkah', 'watermelon radish raita' and, to follow, 'sea buckthorn sorbet'.
'I'll have one of each please,' said Butler, undeterred by the exotic nature of the fayre.
Starters were brought quickly enough and were a tasty selection of mezze. There then followed perhaps the longest wait anyone had ever encountered between a starter and a main course, with no sign of the steaks, fish and pasta for over an hour and a half. When a request was put in for some more food, it was another half hour before it finally arrived. What was served was actually very good, but by this time sufficient beer and wine had been drunk to make the standard of the food somewhat inconsequential. Unsurprisingly, the prospect of waiting a further hour to sample the sea buckthorn sorbet was declined.
Back into the centre of town and a selection of bars were visited in Rembrandtplein, the group finally choosing an outdoor table at Café Cuba despite the constant threat of drizzle in the air. When the drizzle then turned into persistent rain, the seven adjourned inside to plan their next move.
As it turned out, the prospect of a return to Club Prime or, worse still, Smokeys, didn't fill the group with joy, so instead a beeline was made for Club Escape just across the main square. Remarkably, despite every tourist being over forty years old, the group were denied entry without sufficient ID. Baker filed through the cards in his wallet before handing over his British Athletics Over 40 Age Group Triathlon Team membership card. The bouncer took one look at it and handed it back. 'No', came the reply.
The group moved on in search of further entertainment, pausing briefly outside John Doe club. Reid was having none of it though: 'Oh that looks really good, John Doe's...' he said, mustering as much sarcasm as he possibly could.
At this stage, Butler's stomach did the talking, as he announced that he was considering going in search of a waffle. None of the group were quite sure if this was a euphemism for some exotic service he'd seen advertised in the window displaying the raccoon tail. But as it turned out, somewhat disappointingly, he meant exactly what he said - a waffle. A large one stuffed with Nutella and banana and drizzled with chocolate sauce to be precise.
It was a low-key ending to proceedings but no-one was really complaining. The rain and lack of ID suggested that continuing the night's festivities may prove more trouble than it was worth...
The journey back to London was unremarkable except for a sudden outburst of anger from Ben Uttley, whose temper boiled at the sight of his fellow passengers queuing for the departure gate before the plane was ready. 'Sheep', he said, to no-one in particular. 'Moronic sheep.'
'Well they're not on all fours' Butler commented, somewhat pedantically.
Not wishing to let the animal analogy drop, Lederman then chimed in with 'Yeah, they're more like sardines in a tin. A tin standing up on it's side.'
It was definitely time to go home.
Despite the depleted number of tourists, the first ever OHAFC Veterans Boating/Foot Golf/Escape Room Tour had been (to use Borat's favourite phrase) a great success. Huge thanks are due to Charlie Tweddle, whose organisation and choice of activities and venues proved spot on. This is despite the fact that Twedds now has the unwanted record of having organised two OHAFC Tours (along with Riga in 2005) on which a total of eleven tourists have travelled and not a single game of football has taken place.
Smaller thanks are due to Ben Uttley, whose choice of Escape Room and fettish for Dutch trams proved somewhat tedious.
There is already talk of making this an annual fixture in the OHAFC calendar...just don't expect to play any football if you come...
year

2017

venue

Amsterdam, Netherlands

tour captain

Charlie Tweddle
tourists
Andy Butler

David Lederman

Quentin Baker

Paul Molloy

Charlie Tweddle

Charlie Reid

Ben Uttley