Bert Worthy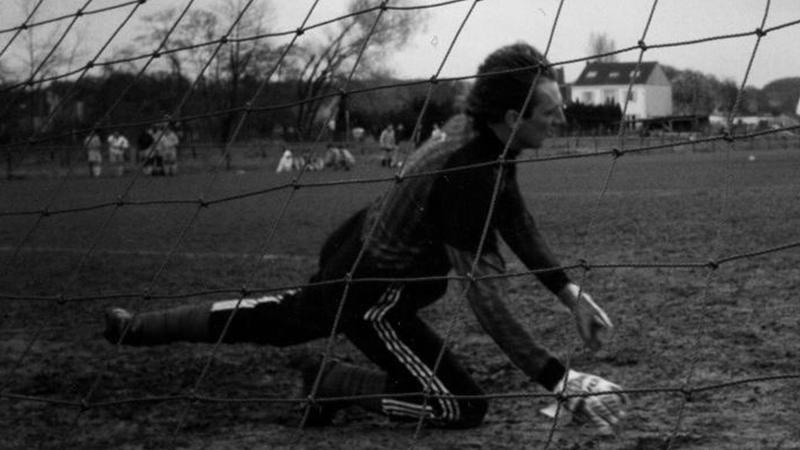 biography
Bert joined the Club straight from school as a skillful centre forward but it was as a goalkeeper that he excelled and he was to become a household name in old boys' football.

In 1977, after five seasons leading the 1st XI line, the No. 9 shirt was discarded in favour of the No 1 jersey and the Club promptly won The Arthurian League championship for the first time. That season Bert's contribution was immense and he went on to make the position his own for the next 30 years, winning Division One in 2000 & the Premier Division in 2004, until his untimely death in 2008.
By the late 70's, tours to the Continent had become financially prohibitive so Bert invited the Club to Thurlestone, Devon over the Easter weekends of 1978, 1979 and 1980 to play against invitation XI's. These were extremely successful and enjoyable weekends and maintained the tradition leading up to the Florida tour in 1981. Bert's presence on tour was taken for granted for many years to come, his final appearance being the 2004 trip to Amsterdam.
In 1978 Bert was selected for The Arthurian League Representative Team v Oxford University, clearly having impressed the selectors in his first season between the posts. He became a regular for the Rep team, totally committed and a true ambassador for both the League and OHAFC. He was popular and highly-respected by opposing clubs. In 1982 he was elected Captain of the Rep team, an honour bestowed on him for five seasons, all the more remarkable considering he had played no organised soccer at Harrow.
Bert had been OHAFC 1st XI Captain for the 1979/80 season but had found it difficult skippering as a goalkeeper and handed over the reins to Nigel Hughes. Bert's great value to the Club as an ambassador and devoted member prompted the creation of a new office, Club Captain, to assist with the heavy workload of the 1st XI Captain. As Club Captain, Bert would be responsible for promoting good relations with other Arthurian League clubs and, along with the Secretary, would act as a mouthpiece in matters that may concern the League Management Committee and other authorities. He succeeded in all aspects of the role.
In 1986 Bert returned as 1st XI Captain for one season only following the retirement of Simon Greenwell and prior to the appointment of Mark Baddeley. For the first time in four seasons the 1st XI did not change divisions, finishing 4th in Division 1 when promotion had earlier seemed a possibility. In recognition of his outstanding services to the Club, Bert received The Charles Clover Brown Award in 1990 and was elected a Vice-President in 1995. He served as Chairman of The Arthurian League from 1999 to 2004 and was elected a Vice-President in recognition of his legendary achievements.