Fred Woolley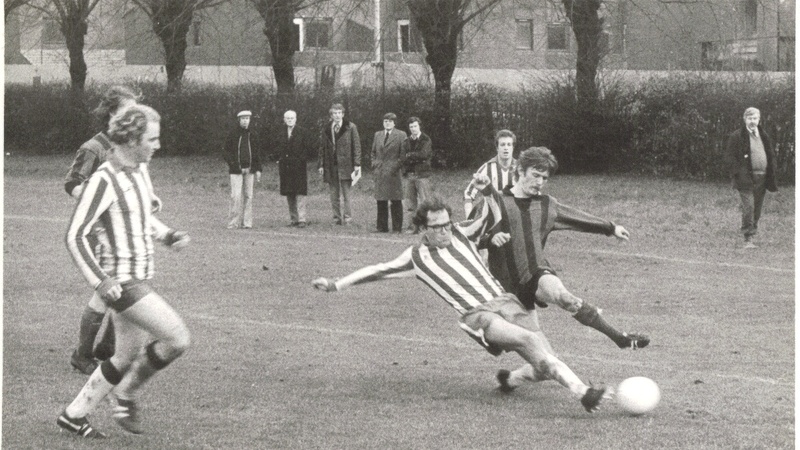 biography
Fred played a leading role in the Club's re-establishment, having been one of the pioneers in 1962.
He was one of very few bespectacled players to represent the Club but, despite lacking the necessary eyesight to time challenges, he was never sent off. In 1971 at Eton in the Dunn, having recently acquired a new pair of glasses, he was cautioned for 'persistent infringements in late tackling' after only 5 minutes play. This prompted the first of many visits to the optician on Mondays following games but none were to totally resolve the "timing" malfunction.
At the end of his playing career in 1991, he turned his attentions to securing new home grounds for the club - at Cobham for league games, at the Bank of England Club in Roehampton for the Vets and finally at the Philathletic Ground on Harrow Hill in 2003, when Chelsea Football Club had bought up the pitches at Cobham for thier new training facility.
Working with the Harrow Development Trust, Fred orchestrated the Astroturf Appeal in 2003/04, to which OHAFC members contributed over £300,000, and the 50 Years On Pavilion Appeal for the recently-built Charles Alcock Pavilion on the Phil pitches.
Fred has held a variety of posts and had some notable achievements during his years of service to the club:
OHAFC Secretary or Fixture Secretary for 10 years between 1963 and 1977; he was presented with an (empty) pint tankard in 1967, being the first player to reach 100 caps in OHAFC colours; Arthurian League Treasurer 1969-1974; 2nd XI Captain 1970/71; 1st XI Captain 1972/73, 1977/78 (League Champions) and 1978/79; organised tours to Carlisle, Le Havre and Thurlestone in 1972, 1976 and 1980; Arthurian League Auditor 1974-1983; OHAFC Treasurer 1979-1985; 3rd XI Captain 1985/86.
Fred was elected a Vice-President of The Arthurian League in 1980, Vice-President of the OHAFC in 1982, President of The Arthurian League from 1992-2002, President of OHAFC 2001-2009, Elected a Vice-President of the Harrow Association in 2010.
He was the deserved recipient of The Charles Clover Brown Award in 1985 and continues to this day to assist the Club in any way he can, helping to organise such events as the Jubilee Cup and the 'FestiPhil' - a four-team tournament first held in September 2012 to celebrate the opening of The Charles Alcock Pavilion, now an annual event.