Mike Keenan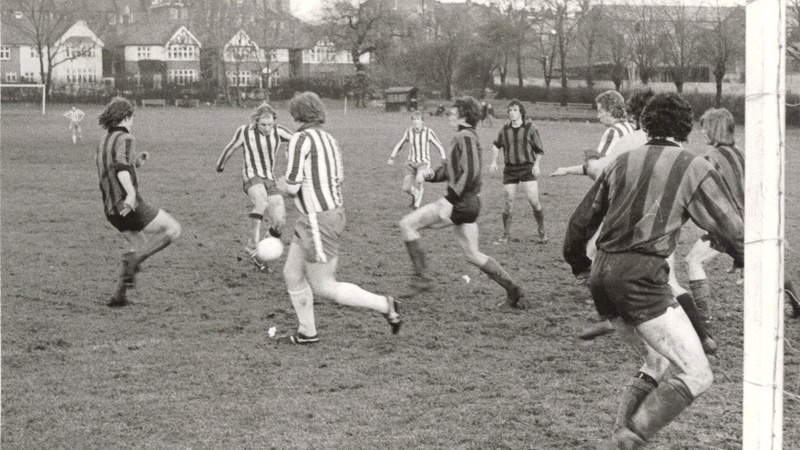 biography
Mike was a very fine footballer who could have played at a higher level than The Arthurian League. Powerful in the air, strong but fair in the tackle, difficult to dispossess and as quick as most opponents, he represented the Club in every playing position except goalkeeper in a career spanning five decades.
Mike first played for the Club in March 1966 in a 2nd XI match away to the Old Foresters, whilst still in the Lower Sixth, and again immediately after leaving school a year later. He joined an organisation which had gathered momentum since its re-establishment in 1963 but which was finding it difficult to run two teams. Substitutes were not permitted in those days so captains were restricted to selecting only eleven players, a situation which did little to encourage recruitment and expansion. Whilst Mike was an automatic selection for the 1st XI, he found himself playing alongside OH's from a previous generation and with no contemporaries for stimulating social engagement.
Some find it a mystery, therefore, that he chose to stay with the Club rather than seek honours in the semi-professional arena, but it was no surprise with Mike in the team that 1967/68 was the most successful 1st XI season since the revival. He provided an important link between the 1963 pioneers and the new blood which at last was coming to the rescue of a struggling 2nd XI.
He played for the League Rep team and captained the OHAFC 1st XI, commanding respect and regular availability amongst the younger members. He played in 15 of the 16 games in the 1977/78 Championship Season and in the 1983 final of the Argonaut Trophy, which OHAFC lost narrowly to Old Carthusians. He is the last man to have been presented with a tankard to mark 100 appearances for the Club, a tradition which had been introduced to encourage a high degree of commitment, and he was the recipient of The Charles Clover Brown Award in 1991. He survived his last game in March 2006, forty years on.
Mike held the offices of Fixture Secretary in 1969/70, 1st XI Captain in 1973/74, Treasurer 1974-1979 and 1997-2000, and Veterans Secretary 1995-2001 throughout David Buik's term as President. He had been elected a Vice-President in 1983 and succeeded Fred Woolley as President from 2009 to 2014.
OHAFC owes Mike a huge debt of gratitude for his unfailing support and total commitment to promoting and developing the Club as the most thriving Old Harrovian activity. He was a dedicated tourist (14 in total) and has made a huge contribution towards establishing the Dinner as a highlight of both the Club's and the School's social calendar. He is a Vice-President of the Harrow Association.