Azhar Yaqub-Khan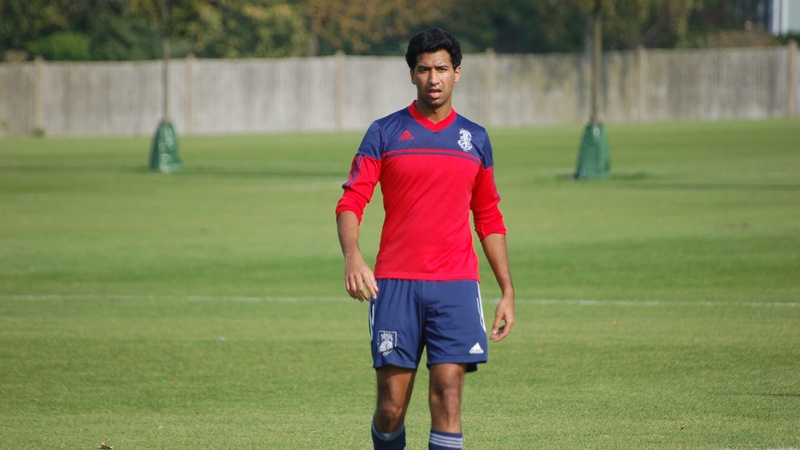 biography
After playing everywhere from 'keeper to striker in the 3rd XI, Azhar replaced Theo Gordon as captain in the 2013/14 season. Many lengthy, rousing, tactical emails followed which, over the course of 2/3 months, developed into an impressive hardcore of players who socialised together after matches. A successful season saw striker Alex Smith become the top Club goalscorer and Khan was instrumental in organising the first 3s team dinner since the side's reformation in 2006/7.
Azhar's enthusiasm is perhaps his greatest asset. Having said that, he has drastically improved his football over recent seasons and is now a mainstay in the 2nd XI. Whether at fullback or in midfield, his emphasis is on executing simple passes, retaining possession and working hard for his teammates.
Azhar set up the OHAFC Facebook group in August 2013 and did a stint as Hon. Recruitment Secretary in May 2014. He was elected 2nd XI Vice Captain for the 2015/16 season, and Club Social Sec. in the 2016/17 season.
q&a's
1) Which football team do you support?
Manchester Utd
2) Who was your favourite player growing up?
Eric Cantona
3) Which boots do you wear?
Only Adidas
4) What is your usual pre-match meal?
Team Brekkie by Jack OE - avocado, toast, scammies
5) Best moment on a football pitch? (OHAFC or otherwise)
Scoring a 40 yard screamer against Aldenham away
6) Any football superstitions?
No
7) Family ties in football?
No
8) On a good day you play like who? On a bad day you play like who?
Ozil, Kolo Toure
9) 3 words your teammates would use to describe you?
Expect the unexpected
10) One thing you would change about football?
Launch an intelligence operation against FIFA officials to expose the corruption and give serious jail time.
11) If you could be anyone else for a day who would it be?
Drake
12) Other sports you enjoy playing or watching?
Cricket
13) Your go-to karaoke song?
MJ - Billie Jean
14) Your last meal request?
Deep pan margarita from Pizza Hut
15) Three guests to invite to your fantasy dinner party? (Dead or alive, real or fictional)
Drake, General Montgomery, Admiral Horatio Nelson
16) Favourite and least favourite TV programmes?
Friends / Made in Chelsea
17) Pet hate?
Peeing on the loo seat
18) One place you've always wanted to visit but haven't yet?
Japan
19) Something on your bucket list?
Sky diving
20) One thing not a lot of people know about you?
Used to be a 'keeper at school...