David Lederman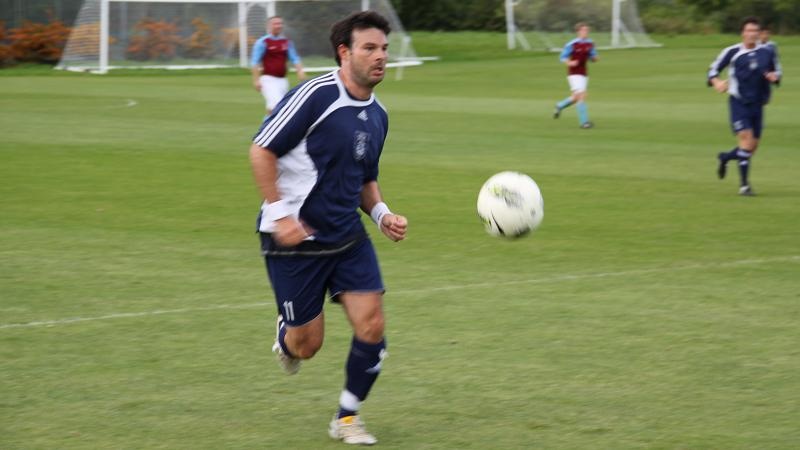 biography
One of the finest footballers Harrow School has produced began his OHAFC career whilst still at school, playing several times for the 1st XI in the 1992/3 season and even making his Arthurian League debut against Oxford University whilst still only 18. He had previously represented Tottenham Hotspur at Under 16 level.
An electrifying right-winger, David possessed fearsome pace, supreme close control and dribbling skills and a keen eye for goal and quickly began scoring and making goals on a regular basis in a struggling Harrow team.
However, as the side's fortunes improved, so did David's influence on the team and he was a key member of the side that won the First Division in 1999/2000, before going on to win the Premier Division title in 2003/4.
David was appointed captain of the Arthurian League Representative XI in 2003, a post he held for four years, and along with Harry Hoffen and Geoff Harrow continues to be one of only three OH footballers to have represented the AFA Representative side.
He played a key role in both the side's major triumphs in the late 2000's, scoring and making a goal in the extra-time Arthur Dunn Cup semi-final win over Salopians, before setting up Paul Molloy's winner in the final. He finished the Premier Division title-winning season of 2009/10 as joint-top scorer for the side with 8 goals from 12 starts, again doing the business when it mattered with a fine free-kick and an assist in the 3-1 win over Charterhouse in late April that all but sealed the title.
Despite his Veteran status, David continued to score and supply goals for the 1st XI on a regular basis well into his late 30's and his enthusiasm for the Easter Tours remains undimmed: he has been present on every one since 1993, including organising the week-long trip to the Algarve in 2006, alongside Johnny Williams.
He was awarded the Charles Clover Brown salver in 2009, the 150th Anniversary of the club's formation, for his services to the club.
He was elected Vets Vice-captain in May 2015 having helped the side win their second Veterans Cup a month earlier and in the summer of 2016 took the decision that it was finally time to bring the curtain down on 24 seasons of 1st XI football, signing up as a member of the 2s under Geoff Taunton-Collins' leadership.
He was a prominent member of the side that won promotion from Division Three in 2016/17, scoring 7 goals in 16 League and Cup appearances, as well as finishing top of the assists chart, with 15, and continued as a regular member of the side as they took on the challenge of Division Two in 2017/18.
David took over the Vets XI captaincy from John Wyn-Evans in the 2020/21 season, but immediately had to deal with the loss of several key men to serious injury - Harry Hoffen, Tim Dalton and Quentin Baker all unavailable for long spells.
Despite this, his love of the game and innate competitiveness keeps him coming back for more - now in his late 40s, David continues to turn out regularly for the 2s, remarkably playing in every single game the side played in the 2019/20, 2020/21 and 2021/22 seasons. He was on the brink of making his 250th club appearance since stats began in 2009 when the 2021/22 campaign came to a close.
q&a's
1) Which football team do you support?
Spurs and Real Madrid
2) Who was your favourite player growing up?
Chris Waddle then Gazza
3) Which boots do you wear?
Adidas Gloro in blue
4) What is your usual pre-match meal?
I never eat before a game
5) Best moment on a football pitch? (OHAFC or otherwise)
Representing Spurs at Under 16 level
6) Any football superstitions?
Wear the smallest shinpads I can find
7) Family ties in football?
Dad played to a decent level and was a season ticket holder at Arsenal for 25 years
8) On a good day you play like who? On a bad day you play like who?
Nowadays on a good day I'm Jan Molby, on a bad day I'm Tomas Brolin
9) 3 words your teammates would use to describe you?
Weird, amusing, cat
10) One thing you would change about football?
Overhyping everything in the media
11) If you could be anyone else for a day who would it be?
James Bond
12) Other sports you enjoy playing or watching?
Play tennis, golf, table-tennis, snooker; watch NFL, cricket, tennis
13) Your go-to karaoke song?
World in Motion by New Order
14) Your last meal request?
Roast beef with all the trimmings, affogato for pudding
15) Three guests to invite to your fantasy dinner party? (Dead or alive, real or fictional)
Peter Sellers, Liz Hurley, Jimmy Hill
16) Favourite and least favourite TV programmes?
Favourite is any sport, Least favourite any reality nonsense
17) Pet hate?
Driving in London…
18) One place you've always wanted to visit but haven't yet?
New York
19) Something on your bucket list?
Go to Augusta to watch the Masters golf
20) One thing not a lot of people know about you?
My godfather played cricket for Essex and fenced in the Olympics for Great Britain