Gbeminiyi Soyinka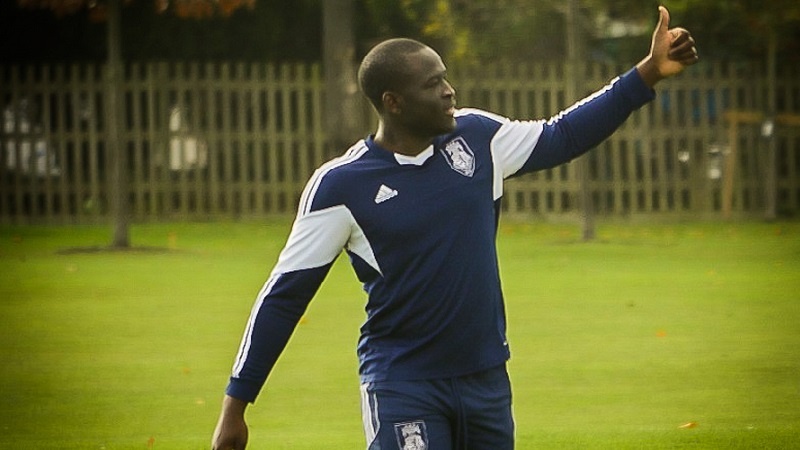 biography
One of the most prolific strikers in both OHAFC and Arthurian League football, Gbeminiyi Soyinka or 'Bem' for short, lives to score goals. Quick, powerful, capable of finishing with either foot, Bem has terrorised defences up and down the League over the past 15 years.
Whilst attending Edinburgh University between 2004 & 2007, Bem still found the time to appear for the 2s on a semi-regular basis. Originally played as a left winger in order to utilise his searing pace, it was clear from his early appearances that he needed to be deployed through the middle. His breakthrough moment came in the 2006 Junior League Cup Final when he scored a superb hat-trick in the second half of extra-time to dismantle a tiring Chigwellian side and seal the Cup for the OHAFC.
In 2010/2011, a fantastic 23 goals in 16 games in Division Three saw Bem top the scoring charts in all 6 Arthurian League divisions. He excelled in the team's run to the final of the Junior League Cup, scoring once in the 1st round win over Citizens, twice in the 2nd round victory over Malvern 2s and a hat-trick in the quarters against KCS Wimbledon 2s. He grabbed another two in the semi-final win over Cholms 2s but, amazingly, drew a blank in the final against Charterhouse 2s. Nevertheless, the side's famous 3-2 win was ample recompense for his efforts up until that point.
The following season was almost a replica, with the 2s struggling badly in the League but enjoying yet another spectacular run to the JLC final. Indeed, the League form was a mess for much of the season, with the team winning just two of its' first 12 matches. Thankfully, relegation was avoided with a comfortable win over Eton 2s on the final day of the season. Bem ended the campaign with 7 goals in 8 League appearances, including 4 in the 7-0 hammering of Westminsters 2s. But he once again saved his best efforts for the Cup, scoring 8 goals in the first three rounds as Oundle, Berkhamsted and Epsom were swept aside. An extra-time win over Haberdashers saw the team return to the final, but this time they were well beaten by a strong Charterhouse 3s side. Bem was carrying an injury and so only came off the bench with half an hour to go, and despite looking lively, could not swing the game in Harrow's favour.
2012/13 started superbly both for Bem and the OHAFC 2nd XI: he scored both goals in the opening day 2-1 win at Eton, including a 93rd minute winner, and two more in the 5-2 defeat of Winchester 2s the following week. Indeed, Bem scored in the first six games he appeared in, failing only to hit the net when appearing as sub in the 3-0 defeat by Aldenham. But the 2s form fell away after Christmas and Bem's scoring rate also slowed. He did score yet another hat-trick in the JLC thrashing of Citizens and ended the season with 11 goals in 9 appearances in all competitions - 5 in the JLC and 6 in the League, from 7 appearances.
Disappointingly, Bem decided to switch teams for the 2013/14 season and was not seen again in OHAFC colours until the 2014/15 season. With injuries and poor availability hindering the 1s, Bem spent two seasons as a bit-part player in both the Premier Division and Division One. Understandably, his goals ratio suffered as he scored just once in 7 games the first season and once in 8 games the year after, although half his appearances were off the bench.
With the 1s restructuring under Yunus Sert, Bem was back leading the line for the 2s in the 2016/17 season and once again he showed he had lost none of his predatory instinct, enjoying a superb campaign as he scored 20 goals in League and Cup to help the side earn promotion into Division Two. Bem scored in all but two of the 12 games he played in, hitting the target in his first seven appearances and smashing hat-tricks in the first two - a 6-2 win over Eastbourne and a 4-0 win at Aldenham. He scored in both League wins over Salopians, including the winner in the away fixture, and also scored the second in the vital 2-2 draw away to Chigs 2s. Disappointingly, a troublesome knee injury ruled him out of the final few games of the season, including the promotion-clinching 2-1 win over Alleynians on the Sunley Field. He continued to destroy lower League teams in the JLC, scoring 4 past Brentwoods 3s and both goals in the 2-1 win over Alleynians 2s. Again, injury hampered him in the quarter-final defeat at Westminster 2s, coming on as a second half substitute.
Sadly, Bem's knee injury continued to hamper him throughout the 2017/18 season and he was severely restricted in his appearances for the 2s in Division Two, not starting a game before the end of January.
q&a's
1) Which football team do you support?
The most successful club in English football - Liverpool FC - YNWA
2) Who was your favourite player growing up?
Tie between Robbie Fowler, Ian Rush and Steve Mcmanaman 
3) Which boots do you wear?
Adidas
4) What is your usual pre-match meal?
A pasta dish to carbo load on Friday night then bagel, eggs and cereal on matchday morning
5) Best moment on a football pitch? (OHAFC or otherwise)
Scoring a 25 yard half volley into the top left hand corner vs Seifu School (Japan) on the 2002 Soccer Tour to Japan and China. For OHAFC - scoring a 15 minute extra time hat trick in the JLC Final to bring home the Cup in 2006
6) Any football superstitions?
Have to wear the number 7 shirt (after The King - Kenny Dalglish and El Pistolero - Luis Suarez)
7) Family ties in football?
One of my Dad's 1st cousin's was classmates with our (Nigeria's) national manager Stephen Keshi (manager between 2011-2015)
8) On a good day you play like who? On a bad day you play like who?
Good day - Thierry Henry. Bad day - Ryan Babel
9) 3 words your teammates would use to describe you?
Goalscorer (aka "20 goal a season striker"), predatory, pacey
10) One thing you would change about football?
Actually ban teams (club and national teams) when fans racially abuse players rather than the paltry fines that the likes of Fifa and Uefa give out.
11) If you could be anyone else for a day who would it be?
Barack Hussein Obama II
12) Other sports you enjoy playing or watching?
Rugby / Cricket / Table Tennis / Tennis / Athletics
13) Your go-to karaoke song?
You'll Never Walk Alone - Gerry & The Pacemakers
14) Your last meal request?
Eba, Okra and Stew (stew to include, snails, chicken and beef)
15) Three guests to invite to your fantasy dinner party? (Dead or alive, real or fictional)
Barack Hussein Obama II, Bill Shankly, Martin Luther King Jnr.
16) Favourite and least favourite TV programmes?
Favourite - Grey's Anatomy
17) Pet hate?
People who walk on the street whilst looking down on their phone
18) One place you've always wanted to visit but haven't yet?
Aotearoa
19) Something on your bucket list?
To build my own family house (not literally me building it though!)
20) One thing not a lot of people know about you?
I play 3 musical instruments: Violin (since I was 6), Piano (since I was 5), Drums (since I was 4)