Geoff Taunton-Collins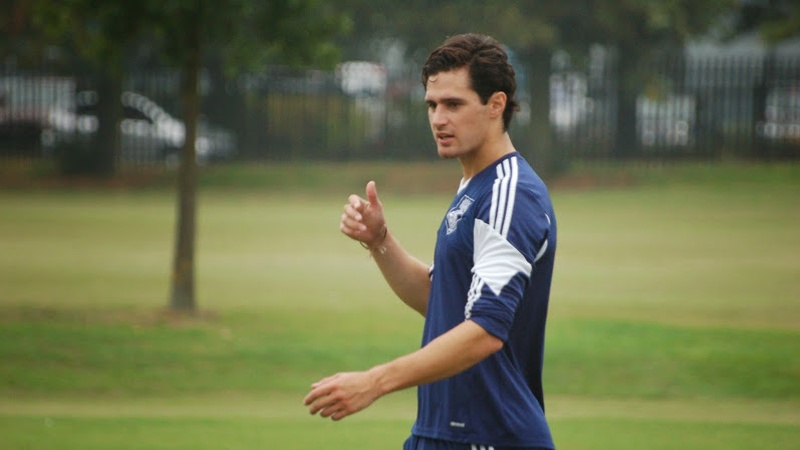 biography
One of the best-looking players ever to don the famous navy blue shirt, 'Super' Geoffrey Taunton-Collins was pulled away from a lucrative career filming Milk Tray adverts to play for the OHAFC at the age of 26. An Oxford University graduate, Geoff is blessed with great pace, athleticism and an enthusiasm for the game that puts many of his colleagues to shame. Most comfortable on the right, Geoff uses his pace and direct running to great effect whether in a midfield or wing-back role. His crossing has improved from the early 'Scattergun' years and he also chips in with his share of goals.
He made a memorable debut for the club on the opening day of the 2014/15 season, coming off the bench to score for the 2s in their 3-2 win over KCS Wimbledon 2s, the same game that Ollie Curry made his club debut in. Geoff performed well and was immediately considered an automatic choice for the side. Oddly enough, he was selected at left-back the following week, but came within inches of scoring for the second week running when a header came back off the bar.
His early form was such that he was called up by the 1st XI when they were short of defenders for the trip to Tonbridge in late November and he made his debut when he replaced Jonny Lalude on the hour mark. His enthusiasm for OH football shone through and as a reliable performer he was in constant demand: he ended the season with 22 appearances under his belt, 5 of them for the 1st XI, more than any player in the club.
Such was the high regard Geoffrey's debut season was held in, he was appointed captain of the 2nd XI in May 2015, having already led the side in the final three games of the previous season. He repeated his highly impressive tally of 22 appearances for all sides from the year before, three of them for the 1st XI, but this time chipped in with six goals, all of them in the League. He began with a goal and an assist in the 5-3 defeat to Haberdashers and then scored twice in the 4-2 win over Epsom. But the side struggled in the first half of the season and found themselves in the relegation zone over Christmas. Form picked up in the New Year and a series of high-scoring games ensued. Geoff found his scoring boots again in the 3-3 draw with Eastbournians, scoring twice and his final goal of the season came from the penalty spot in a 4-1 defeat at Epsom. By this stage the side had averted the threat of relegation but been knocked out of the Junior League Cup in the quarter-finals by a strong Lancing side. It was a satisfactory first season in charge for the new skipper.
The following season was a different story however, as Geoff moulded a committed, highly-motivated group of players and led them to promotion from Division Three in style. The side lost just two of their fourteen League games – one unfortunately due to goalkeeping errors away at leaders Alleynians – and the side only lost out on the title by a single goal's goal difference. Geoff enjoyed another excellent season, playing in all but one of the League games, scoring three times, as well as playing in two of the three Cup games.
Life in Division Two was considerably harder, but again Geoff did an excellent job, managing to keep his squad interested and motivated despite some heavy early defeats.
q&a's
1) Which football team do you support?
Liverpool
2) Who was your favourite player growing up?
Fowler then Gerrard then Suarez
3) Which boots do you wear?
Adidas F50s
4) What is your usual pre-match meal?
Porridge with molasses sugar and a protein shake
5) Best moment on a football pitch? (OHAFC or otherwise)
The best is yet to come
6) Any football superstitions?
Listening to Classic FM on the drive to the game
7) Family ties in football?
Zero ties
8) On a good day you play like who? On a bad day you play like who?
Gareth Bale good day, Marc Gonzalez of Liverpool fame bad day
9) 3 words your teammates would use to describe you?
Loves a dribble
10) One thing you would change about football?
Man Utd
11) If you could be anyone else for a day who would it be?
Hank Moody
12) Other sports you enjoy playing or watching?
Tennis, table tennis, sailing, rugby
13) Your go-to karaoke song?
Wonderwall
14) Your last meal request?
Beef carpaccio, rocket, pesto, parmesan shavings, and truffle oil
15) Three guests to invite to your fantasy dinner party? (Dead or alive, real or fictional)
Pepe Reina, Margot Robbie, Jesus
16) Favourite and least favourite TV programmes?
Game of Thrones best, Storage Hunters worst
17) Pet hate?
Excessively salty peanuts
18) One place you've always wanted to visit but haven't yet?
Los Angeles
19) Something on your bucket list?
Emily Ratajkowskijityfskitywjit
20) One thing not a lot of people know about you?
I play the clarinet beautifully