Max Curry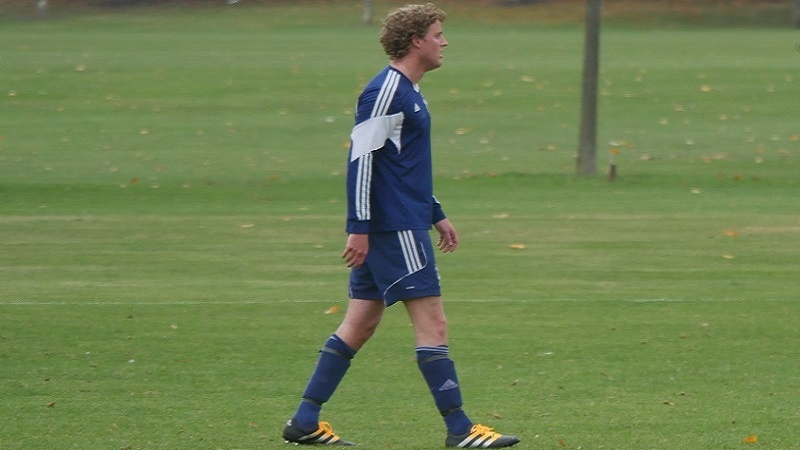 biography
Max is a tall, strong forward who can play as a target man or off the shoulder and he is equally adept in a central midfield role where his excellent aerial ability proves extremely useful. He is also well known for demeanour on the field, which can best be described as 'grumpy old man', constantly growling at anything and everything, even when things apparently are going well.
He made his debut for the club in October 2011 in the 2s' 4-1 win over rivals Westminster and scored his first goal in the 2-2 home draw with Brentwoods 2s - his second appearance. Those were his only two League appearances, although he did play in two Junior League Cup ties, including the final, playing the first hour in the loss to Charterhouse 3s.
After spending a fair amount of time on the bench in the 2012/13 season, Max secured a regular starting place in the starting lineup the following campaign, and he responded brilliantly, scoring ten goals for the team and earning a debut for the 1st XI in the disappointing 1-0 defeat at Malvernians in November.
2014/15 saw Max among the goals again as he scored 8 in 11 League and Cup appearances, including his first OHAFC hat-trick in the 5-0 win over Malvern 2s in November, although his ratio dropped slightly the following season when he scored five times in 13 appearances.
Max was appointed vice-captain for the 2s alongside Kyri Pittalis prior to the 2016/17 season and was a vital presence in the promotion campaign, dovetailing his striking role with spells in the centre of midfield. He only scored twice in 13 League and Cup appearances for the 2s, but fittingly he scored the final goal of the season, the winner away to Citizens. He also played once for the 1st XI in the 1-0 defeat away to Forest in mid-January.
A work placement in Australia deprived the side of his presence for the first half of the 2017/18 season but he returned with a bang, earning the Man of the Match nomination in the titanic 1-0 win over Westminsters in January.
q&a's
1) Which football team do you support?
Newcastle United
2) Who was your favourite player growing up?
Les Ferdinand
3) Which boots do you wear?
Adidas of some variety
4) What is your usual pre-match meal?
Sainsbury's meal deal (porridge if I wake up early enough) 
5) Best moment on a football pitch? (OHAFC or otherwise)
Scoring a volley in the win over Berko  helping the team get through to the JLC semi final 
6) Any football superstitions?
Always have a pee before a game
7) Family ties in football?
Nil
8) On a good day you play like who? On a bad day you play like who?
Good day: I would like to think Harry Kane. Bad day: Cisse
9) 3 words your teammates would use to describe you?
Volatile, weird (apparently), bipolar
10) One thing you would change about football?
Pundits talking about penalty decisions
11) If you could be anyone else for a day who would it be?
Jay Alvarrez
12) Other sports you enjoy playing or watching?
Golf, tennis, skiing and surfing
13) Your go-to karaoke song?
Sweet Caroline
14) Your last meal request?
Chicken Penang curry and coconut rice
15) Three guests to invite to your fantasy dinner party? (Dead or alive, real or fictional)
Richard Ayoade, Phil Dunphy & Da Vinci
16) Favourite and least favourite TV programmes?
Favourite: Arrested development. Worst: Homes under the hammer
17) Pet hate?
Tourists wearing backpacks on the tube
18) One place you've always wanted to visit but haven't yet?
New Zealand
19) Something on your bucket list?
Heli skiing
20) One thing not a lot of people know about you?
Started training for the 2022 Winter Olympics in Beijing