Pablo Hutchinson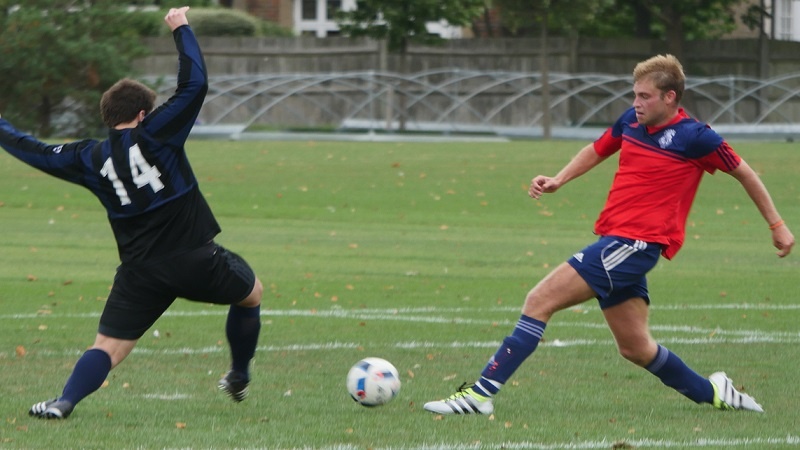 biography
A tall, physical presence, Pablo can either play in the middle of the park or up front. Not quick, but with great stamina and a keen eye for goal, he plays in a very similar to way to former Blackburn Rovers and Sheffield Wednesday utility player Paul Warhurst. It is not thought this was the inspiration behind him being named Pablo however.
He joined the club at the start of the 2016/17 season and made his debut as striker for the 2nd XI in their 1-0 pre-season win over the Old Alleynians. He played six games for the 2s in his inaugural season, scoring twice, the first of which came in the 3-2 win away to Salopians in Chiswick when he bundled the ball home from close range to put the visitors 2-1 up. Pabs also came on twice for the 1st XI, making his senior debut in the 4-2 home defeat to Lancing in early January 2017.
Holding down a time-consuming job in the city restricted Pablo's appearances in the 2017/18 season severely. Indeed, on the occasions he did play, he almost always had to return straight to the office.
q&a's
1) Which football team do you support?
Liverpool FC / Real Madrid
2) Who was your favourite player growing up?
Raul Gonzalez
3) Which boots do you wear?
Adidas ACE silver
4) What is your usual pre-match meal?
Protein shake (or hot chocolate) with chocolate chip cookies
5) Best moment on a football pitch? (OHAFC or otherwise)
Playing against Happy Valley AA in Hong Kong. Happy Valley have won the First Division 6 times. We drew 1-1
6) Any football superstitions?
Always wear two pairs of socks. A pair of black socks underneath the blue socks.
7) Family ties in football?
Great grandfather played for Real Madrid back in the day.
8) On a good day you play like who? On a bad day you play like who?
Good day – 2007/08 Fernando Torres, Bad day – Andy Carroll
9) 3 words your teammates would use to describe you?
Creative, Patient, Consistent
10) One thing you would change about football?
Away goals after extra time
11) If you could be anyone else for a day who would it be?
Richard Branson
12) Other sports you enjoy playing or watching?
Squash, Golf, Tennis, Triathlon
13) Your go-to karaoke song?
Fresh Prince of Bel Air (in Spanish)
14) Your last meal request?
XL Stuffed Crust Meat Machine with BBQ base from Pizza Hut
15) Three guests to invite to your fantasy dinner party? (Dead or alive, real or fictional)
Walt Disney, Hitler's Cleaner, Mickey Mouse
16) Favourite and least favourite TV programmes?
Fav – Prison Break, Least - TOWIE
17) Pet hate?
Slow walkers in the underground
18) One place you've always wanted to visit but haven't yet?
Panama
19) Something on your bucket list?
Swim with Whale Sharks
20) One thing not a lot of people know about you?
I hate tomatoes