1993 - Prague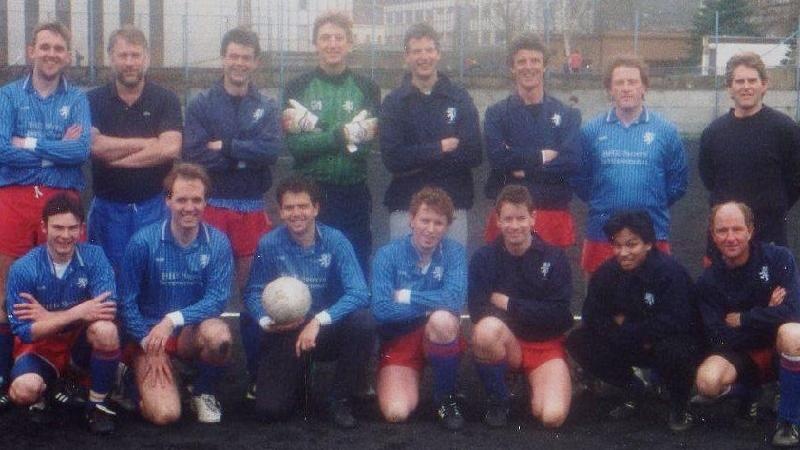 report
In 1993, David Kerner organised a tour to Prague. The team stayed at the Pension Unitas which was originally a convent and became a secret police prison. Vaclav Havel, the first Czech president after the fall of communism, was imprisoned there. Squad members concluded it was probably the worst accommodation ever recorded on tour but probably the least amount of time spent in it.
The opening match against local side Cechie Karlin was played on a cold, misty day and on a black, shail-like pitch that was as big as Wembley (as measured by Bert Worthy). David Lederman opened the scoring after ten minutes, collecting the ball on the edge of the Harrow penalty area following an opposition corner and racing the length of the pitch. It was to be Harrow's only attack of the game, but they hung on grimly to complete an undeserved 1-0 win.
The tourists then took on the British FCO, beating them 2-0, before playing a European knockout tournament involving Londoners Winchmore Hill and local side Spolana Neratovice 1906, who took to the field wearing an all-brown kit with lace-up collars that looked like it may well have been the club's original kit on their formation nearly 90 years previously. Despite enjoying about a fifth of the possession, the OHAFC again came up trumps, winning 3-2, Lederman again among the scorers.
Indeed, this tour was remarkable for the fact that none of the OHAFC goals were actually scored by Old Harrovians: Lederman was still a schoolboy and the other goalscorers, Messrs Ian Greet, John Holmes and Miles Davis were all guests.
Off the pitch, the squad enjoyed the many bars situated along the river and a cab ride into the centre of town to see a live stage show, of sorts. Bert Worthy arrived a few minutes later than everyone else, peeled back the curtain, had a good look at the stage and in a loud voice enquired to the audience: 'What's going on in here then?'
year

1993

venue

Prague, Czech Republic

tour captain

David Kerner
tourists
John Holmes

Chris Carline

Burden

Bert Worthy

John Wyn-Evans

Geoff Harrow

Johnny Williams

Eric Sumner

David Lederman

Ian Greet

David Kerner

Miles Davis

Eddie Thornton

Mike Keenan

Anshuman Woodhull
photos