1998 - Amsterdam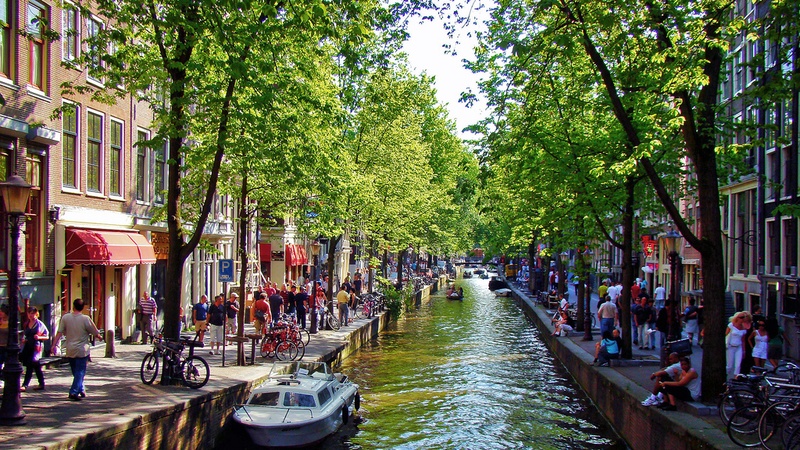 report
Johnny Williams organised the fourth OHAFC tour to Amsterdam in 1998 after a two-year hiatus without one taking place.
Accomodation was a homely B&B on the banks of one of the many canals, although there were two minor drawbacks - the whole squad had to share one dormitory which, with Anshuman Woodhull's snoring, wasn't ideal; and also staying in the same accomodation was a touring party from Winchmore Hill, who lowered the tone dramatically.
Nevertheless, it failed to deter Bobby Tindall from planning for a busy trip - he smuggled in a quantity of viagra tablets in his contact lens case, for some reason believing the 'crazy Dutch poleesh' would confiscate the little blue pills if they found them.
The football programme for this tour was a good one: OHAFC lost 3-1 to OSV in a full game on the Saturday and then on the Sunday played in a four team tournament at SC Wartburgia. Here, we played four shortened games, winning two (including beating FC Svij 2-1), drawing one and losing one.
The highlight was undoubtedly the playing of the Champions League theme tune before every game, with all players standing to attention in the centre circle.
Quentin Baker, unable to play due to a severe tendon injury in his hand which required him to walk round with something akin to a table-tennis bat attached, got bored early on in the tournament and hiked for an hour to find a McDonalds. The sight of him returning over the horizon munching on a Big Mac had several players drooling with envy.
Sadly, the tournament took longer than planned, with Rob 'second touch always a tackle' Thornton not living up to his nickname and usually finding a pitchside canal with his second touch - the ensuing kerfuffle of fishing the ball out adding several minutes to every half of football.
Keith, still recovering from the effects of the night before, had trouble locating the ball and could be seen running off in random directions, faithfully ignoring any helpful shouts from his teammates to the amusement of all.
On the plus side, the form of Archie Pleydell-Bouverie in goal was surprisingly good, although it rather went to his head: one half-decent tip round the post was met with a euphoric cry of 'What a f***ing save!' by the extrovert in green.
year

1998

venue

Amsterdam, Netherlands

tour captain

Johnny Williams
tourists
Johnny Williams

Bobby Tindall

Andy Beck

Rob Thornton

Andy Butler

David Lederman

Quentin Baker

Keith (?)

Archie Pleydell-Bouverie

Anshumann Woodhull