2013 - Sofia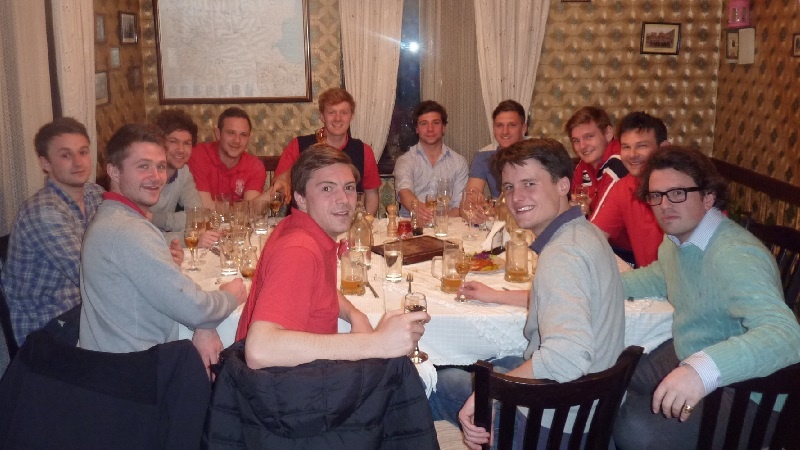 report
A young and talented squad of fourteen, including no less eight tour virgins, assembled to travel to Sofia, Bulgaria, to represent the OHAFC over Easter 2013. Despite outward confidence from the tour captain, there was a very real worry no-one would greet the expeditionary force of 11 that took the early flight. Having responded to an email that seriously called into question the Gmail spamming filter, most of the tour organisation had been left in the hands of Radoslav, an unknown local with a clear penchant for football and beer, whose unbelievably excited correspondence over the previous three months had kept the touring squad in eager anticipation.
The tone was set before the 6.30am flight from Gatwick, with most of the team failing to heed the captain's orders to rest up before the tour – Fred Coleridge-Cole and Hugo Trower elected to spend the evening ensuring that their physiques looked impeccable from all angles – somehow knowing that at some point in the next 72 hours they'd be required to perform the tricky naked squatted-shear or a seductive nude seal pose for the assembled crowds. Ben Kerry, meanwhile, attempted to get ahead of the pack with some pre-tour "way fixcha" at a young lady's abode.
Thankfully, having been met at the airport by a gleeful Rado and his car boot filled to the brim with Acme sized comedy beers, everyone relaxed and looked forward to fulfilling their various tour objectives – Will Orr-Ewing's cultural appetite was, unfortunately, put on hold as the team elected to refuse the offer of a tour around CSKA Sofia's football museum in favour of Happy Grill. When the bill for food and hooch came to less than £8 a head, a confidence surged through the party as everyone pondered what their budgets might stretch to in a land of infinite opportunity.
A traditional Bulgarian establishment, loosely translated in English as 'Family Café' (although it certainly wasn't a cafe and there were a lot of daughters and not many sons in the way of family present) was the chosen destination for the afternoon's activity, and how the group laughed at the poor signage on display as the Club's owner, Sam, had clearly misspelt his name with an "&" instead of the "a". During the visit, some of the squad were able to learn a great deal of Bulgarian culture by a chance meeting with an economics student, while Pritchard's unfamiliarity with the exchange rate landed him in some financial soup. Champagne for everyone darling!
Having arrived on a later flight, Woolley, Lederman and MacGregor joined the rest of the team at 11pm outside the evening's club of choice, the tour party now complete, and the first night kicked off in earnest. A combination of a slapstick "walk into a glass door" moment from the tour captain and 14 over-excited men, some of whom were by this stage dribbling and falling over into the road uncontrollably, led to the team being "face-controlled" away from our chosen establishment. Moving on, Nick Bartlett attempted to persuade the second club's manager that we were an upstanding group of well-meaning gentlemen by waving a money clip around and asking to speak to the owner, but once again we were shown little love and eventually made our way into nearby Stereo, whereupon Nick immediately attempted to fag a bouncer to go round the corner to McDonalds and fetch us a round of cheeseburgers. This provided the required backdrop for Alasdair Pritchard to enjoy his first and only purple patch of tour (nothing compared to the purple trousers he sported for most of the weekend) playing peek-a-boo with a worried looking mother-of-6 and managing to sweat through his tweed jacket. The team then broke ranks, splitting into crack teams to variously hunt down fast food joints, seek further entertainment or talk to perplexed locals. Harry Woolley, who can spot a tour polo from 90 yards, met a group of girls introducing themselves as Bonnet and Nelson – the prop and full back (respectively) for Lancaster University's female rugby team; Harry declined the offer of a night cap back at their hostel when they refused to "show him their fly half", but exchanged numbers and thought little of the consequences.
A smaller group made their way to a bar underneath Jim Bean, which was surprisingly lively for the advanced hour and allowed JOE to get off the mark with a friendly Bulgarian, who claimed to be from Austin, Texas in an accent that can only be described as 'a Bulgarian doing a bad impression of an American accent.' Refusing to wake his brother, Jack kindly offered his guest a spare room, which he was disappointed to find out was not included in the tour package. Note: Future tours should provide for plus 1's and spill over rooms.
On Saturday morning there was a good turnout for a breakfast of mystery meat, cheese and cherry juice, a combination that proved too much for Pritchard. As the 'keeper made extraordinary noises in his bathroom, akin to a group of pigs being strangled, the rest of the team took to the football field, conveniently located within the grounds of the hotel. Pre-match formalities included an impromptu national anthem, a quality handshaking ceremony, and the most committed mascot in international football: a faceless man in a massive foam beer costume who was on hand for comedy photographs and solo goal celebrations, staying in character until over 2 hours after the final whistle.
The game itself was a great success: Harry Sewell, making his debut for any team of the OHAFC, scored two very well taken goals to settle the tourists' nerves. JJDC Best, making up for an early bedtime on the first evening, made it three before the break with a deft chip over the advancing 'keeper, reminding some members of the squad of a young Carlos Vela. A combined failure of Jack and Will Orr-Ewing led to a sloppy goal being conceded on the hour, but before the final whistle Will made it 4-1, continuing his rich vein of scoring on tour (on-pitch only) when he bundled home from a yard out. Some beers after the game went some way to repairing relations with the hosts after 3 yellow cards from MacGregor (mistimed hack), Ben Kerry (leaving a boot in and looking like Joey Barton with his sweet scrag) and Coleridge-Cole (being too pathetic to jump to head in a cross from 1 yard, so punching it into the net). Notable mention goes to Hugo Trower, replacing the injured Pritchard (pulled his leg/pride) in goal, tipping a free kick onto the cross bar, then punching the rebound into the strikers face and over the bar. The game finished OHAFC 4 – 1 Sofia Nomads.
The evening's entertainment started with a well-organised BBQ with our host team in a local tavern, where beer and miscellaneous meats were provided for in copious amounts by the Sofia Nomads. Afterwards, the tour party learned from previous mistakes and went in drips and drabs to Club Blender, an excellent establishment with male monkey dancers and many beautiful women, none of whom were that keen to talk to fourteen drunk Englishmen who had just consumed large quantities of strange meat (and cheese). While Spencer Crawley played a statistically prudent waiting game, Fred CC rushed into a tryst with Martin Keown's South African slash Bulgarian cousin, Ben Kerry threatened to expose himself in return for visibility of a girl's armpits and Harry Woolley did alright for himself. Fortunately, David Lederman was on-hand to take notes, recording an extraordinary conversation between Miss SA and Fred CC regarding relative anatomical health and attitudes towards it.
Most of the team then conjoined in Kama Sutra, which was wrongly advertised to the party as an Indian restaurant, but nonetheless had plenty on the menu to the liking of the team. Best, having once again put himself in a childlike state of utter dependence on his friends, managed to recover to order a Chinese dish over 10 times, managing at one point to fit a whole fillet of oriental meat (no cheese) into his mouth. Harry Woolley ordered a small, local pasty of some sort and left feeling satisfied. By 6am, those still standing required further portions of meat (some cheese) and began to queue in the 24 hour McDonald's drive through on foot, behind one taxi and in front of another that appeared to contain Mario Balotelli inside. The group were disappointed to find that however far a ridiculous Coleridge-Cole climbed into the booth, there was still no Free Wi-Fi in order to update the 'websi'. After over an hour of queuing, during which time Balotelli had to be becalmed as his patience grew thinner than Woolley, everyone had got what they came for and the team knew their preparation for the final game of tour, kicking off some four hours later, was almost inch perfect.
Sunday morning started very brightly, with fine weather allowing Will Orr-Ewing to visit a cathedral and see some of the famous iron bells of Sofia and Trower and Coleridge-Cole to hoover up the remnants of Lederman's McDonalds that he had been unable to finish a few hours earlier. The rest of the team filtered out onto the pitch, seeing the weather turn from gusty and mild to 65 mph gales and horizontal sleet as-if to perfectly coincide with the fixture. The game was played on astroturf and as the wind blew unchecked from the snow-topped mountains, the team managed to vaguely imitate a football match while intermittently screaming, complaining, changing their positions and assuming strange pre-natal foetus positions to find some shelter from the impossibly uncomfortable conditions.
A mix-up between two of the double-barrelled starlets, Orr-Ewing J and Coleridge-Cole C, led to an early goal for the home side and, despite 95% possession, the OHAFC found it difficult to get any shots on target and bring the scores level. Gregor, a 6 ft 9 inch striker, looked to cause problems for the makeshift defence, but he was substituted for meteorological reasons, and because he was 45 and had all the agility, pace and stamina of Jaws (when not being a henchman and in a massive storm). Jacky R looked on mockingly, snugly wrapped in his much maligned, but briefly appropriate ski anorak. As the second half wore on and the temperature dropped another few notches, the referee decided even he had had enough and inquired as to whether the game should continue. For some reason everyone agreed to carry on, and the visitors were rewarded when a pile driver from Coleridge Cole (which caught the wind a lot) made it all square with twenty minutes remaining, before Hugo Trower stole in at a corner to make it 2-1 at the death.
The frost bite and chill blains suffered by the majority of the squad seemed to spur the tourists for one final push towards the summit of night three, save Bartlett, 31, who elected to play his "I'm too old for 4 nights on the trot" card, which was rightly ridiculed by Lederman, a young, sexiful 38. A charming evening stroll around the city, taking in the wonderful Cathedral, a movie set about Nazis, and a lovely beer in a park felt like the tour was winding down in an acceptable, grown up fashion, much to Will Orr-Ewing's liking. When a table was booked in a traditional monastic eatery, this feeling was compounded. With WOE talking animatedly about eating nettles, the rest of the group eyed him up suspiciously and looked for the nearest bar – the thought of further strange meats, with or without cheese, but definitely with nettles not thrilling them greatly.
The tourists then lucked out, finding the perfect venue for a pre-monastic supper reducer, whereupon two groups formed. The first, seated by a table, ordered pots of tea and contemplated how many hours remained of their ordeal. The other half took to the bar area, ordered beers, Jaeger bombs and contemplated which of the waitresses they should ask out for later.
Woolley, who did neither and slumped in a corner on his own, announced that he had to return to the hotel. Speculation as to when he would next be seen ranged from 'the next morning' to 'next season'...how wrong we were. Before the first mouthfuls of food had been consumed, in walked a revitalised Woolley, chatting animatedly about Bonnet, the prop forward from Lancaster, and wondering why she hadn't replied to his various texts requesting a neutral fixture later that evening. Fortunately, with some help from Lederman, the nature of the texts was upgraded to 'wery spicy' and soon Bonnet was typing away like a crazed text fiend.
The monastic setting for the final meal was a perfect back drop for the traditional elements of the tour – team fines, drinking shots of the famed local spirit and asking Jonathan Best what the hell he had on his plate – Besty rather conservatively had eschewed the 'veal head in tripe' he had ordered earlier on tour for a 'Boat made of meat and cheese'. The food was excellent, and spirits were rallied for a final foray into the student district to meet the Lancastrian athletes in the J&B bar.
As the night wore on, more and more of the team integrated with the rugby stars, impressed in equal measure by their enticing nicknames, flawless physiques and ability to balance a Jaeger-bomb on their head. Very high testosterone levels, a gang mentality, a points scoring system for hooking up with the opposite sex and total moral bankruptcy were displayed by the majority of the touring rugby team, leaving the hapless Old Harrovians as the innocent party in the machinations on the night. Thirsts were slaked, and there was much gnashing of teeth and clashing of sinew. Who knew that going back to your room because you had forgotten your contact lens could lead to such a strange turn of events?
Note to future tourists: do not, under any circumstances, knock on Fred Coleridge-Cole's hotel door – you never know who might answer...
So all of we, whoever we be, come up to the giants of old you see.
year

2013

venue

Sofia, Bulgaria
tourists
David Lederman

Harry Woolley

Jonathan Best

Alasdair Pritchard

Jack Orr-Ewing

Will Orr-Ewing

Ben Kerry

Hugo Trower

Fred Coleridge-Cole

Spencer Crawley

Nick Bartlett

Freddie Macgregor

Jack Robinson

Harry Sewell
photos