2014 - Hamburg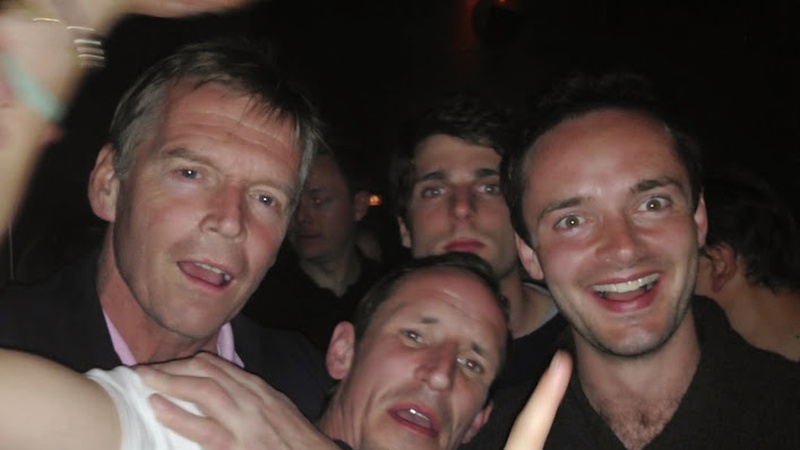 report
A fitting way to celebrate the 50th anniversary of OHAFC Tours.
15 players in varying states of fitness spent three days and nights in Hamburg, scene of the 1992 Tour, soaking up the local nightlife and playing two excellent games of football, losing the first after earning an apparently unassailable 3-0 lead, but holding on manfully in the second to keep a clean sheet and earn an excellent win thanks to two fine late goals.
There was much expectation as the group of 15, including no less than seven tour virgins, met at Luton Airport on Friday lunchtime. Once through security, the first serious piece of Tour business was acted out, with Lederman insisting on there being a draw for the bunk bed and dormitory allocations. He enthusiastically rustled a black bag containing the names and bunk bed locations for all 15 tour members, asking each one to pick out a pair of balls. Stof Magrath was the clear winner here, picking his own name out followed by the solitary 'golden ticket' - meaning he wouldn't have to share his bunk with anyone else.
Dorm A appeared the tougher prospect with Tindall and Hoffen seasoned tour veterans and keen to impress the younger debutants, but the presence of Coleridge-Cole and Poulter in Dorm B ensured there would be little respite for those who were looking forward to a relaxing few days away from home.
Once on board the plane, the excitement of the draw seemed to tire many players out but Alex Gilbert bucked the trend and began to talk furious gibberish for the majority of the hour-long flight, clearly still enjoying the effects of his previous late night out and leaving those still awake to wonder if he had already peaked without even making it onto German soil.
After a short coach trip, mercifully so as Hoffen immediately spotted a microphone and enthusiastically launched into his 'comedy tour guide' routine, the group arrived at the Generator Hostel in the center of town, right next to the main train station.
The hostel was modern, clean and a world away from some of the previous hostels stayed in on tour. After a quick turnaround and a couple of sharpeners in the bar downstairs the group set off for their first night out, agreeing the plan would be food first, then drinks, then whatever else one might find...
After being turned away by a packed steak house and a completely empty pizzeria, a strange Chino-Japanese buffet style joint was suggested by tour leader Fred Richardson. Tour members shuffled nervously around the food displays, not entirely sure how they were supposed to proceed. Of particular consternation was the raw meat and fish counter and the mystery of where the big plates were kept, limiting many tourists to plump for the safe spring rolls and noodle dishes.
After supper, a brief attempt at Heads and Tails was made with Harry Hoffen suggesting everyone contribute ten euros to an as yet unnamed cause. Reluctantly people handed over their cash, knowing full well they were unlikely to ever see it again. The heads and tails foundered almost immediately when it became clear Ed Poulter was not exactly an expert. The first two flips were aborted due to not being able to tell which side was heads and which was tails and then Poulter admitting he 'hadn't been concentrating.'
Anyway, the winner was Alex Cater, who stunned everyone by steadfastly refusing to accept the cash prize given the 'strings' attached to it by an incredulous Hoffen. Fortunately, tour virgin Alec Fogarty stepped forward to save the day, assuring everyone the money would be put to a good cause. He was given a good hand by all, not for the first time that night.
Once outside the restaurant the group descended on the first bar they could find, amusingly named 'The Other Bar'. Unfortunately, The Other Bar turned out to be a poor venue choice, leading many to wish they had actually gone to one of the other bars...
Fortunately, things improved markedly once all 15 OH's had made it into the aptly named 'Players Lounge' back in the heart of the Rieperbahn, although in truth there was no lounge to speak of and the blokes inside certainly didn't look like players. Nevertheless, the bar was perfect and for the rest of the night the group drunk, danced and clocked up the first nightclub pyramid since Split in 2011 much to the amusement of those present.
Bed for most was around the 6am mark following an impromptu team meeting in Dorm B that saw Woolley, Coleridge-Cole and Orr-Ewing roll around on the floor chanting strange noises, Hoffen plant an empty beer bottle in Lederman's bed for him to sleep on and Messrs Fogarty, Gilbert and Magrath left to wonder what an earth was going on.
After five hours sleep it was into the taxis for the first game of tour and a magnificent afternoon spent courtesy of the hospitality of German 6th Division club VfL Lohbrugge. No expense was spared, with the German hosts providing mascots for each player (although wisely refusing to give one to an over-excited Tindall), the national anthems, reading out of the team lineups in an unintentionally amusing German accent and even sparklers for five supporters to wave as the teams walked out onto the lush grass. Sadly the sparklers were of the slow-burning variety and so were still being held up fully ten minutes into the game by the now clearly-sheepish group of fans.
The game itself was a classic with the visitors racing into a three-goal lead thanks to two expert finishes from Harry Turner and a dreadful but successful penalty from Fred Richardson. Turner's display dropped somewhat thereafter when he announced he would temporarily have to leave the pitch to 'detoxify' and was then seen clambering into the undergrowth from where some very strange noises began to emanate.
At that stage tour veteran David Lederman, who was on the sidelines waiting to make an appearance, remarked that the tourists should 'start taking it easy, we don't want to embarrass the Germans.' Unfortunately the side heeded his advice a bit too literally and generously allowed their hosts to score five goals without reply. This despite still continuing to enjoy the better of the game throughout and playing some very neat football.
The result proved too much for Alec Fogarty to bear and he too paid an impromptu visit to the bushes as the clock ticked down, although it later transpired this was an excellent tactical manoeuvre: the Germans' hospitality continuing unabated as they provided a BBQ of epic proportions with foot-long bratwursts, steak, two types of pasta dishes and no less than three different potato salads, meaning that anything less than an empty stomach and you were in serious difficulty.
Fred Richardson stood to make a thankyou speech that was applauded by all; Bobby Tindall stood to make a speech but was ignored by all and so sat down again.
Anyway, there was no time for that. After a taxi ride back to the hotel, during which Lederman managed to lose his camera containing all the game footage on it, it was a quick turnaround and onto the train for a trip to see Hamburg play Wolfsburg at the Imtech Arena, a modern 55,000 seat stadium on the outskirts of the city.
The tour party took their seats just in time for kick-off but it quickly became clear that any football they were going to see was not going to be played by the home side, Wolfsburg all over them from the start. A 2-0 half-time was comfortably held with the 3-1 final score flattering Hamburg.
The long walk back to the train station saw news break of Chelsea's 2-1 home defeat to Sunderland, something that perked up Messrs Gilbert and Magrath no end.
Back in town, Fred Richardson was struggling as tour leader, with constant questions of varying degrees of stupidity slowly wearing him down. He wearily led the group into the nearest restaurant on the Rieperbahn which on the outside looked cosy enough but on the inside offered up the craziest waiter ever seen and the world's worst spaghetti bolognaise, the catch being there was no bolognaise. It was enough to tip Richardson over the edge and, with an enraged Hoffen in tow, he marched up to the counter and demanded action, something Hoffen himself had apparently being doing in other establishments around town.
After supper, Fred Coleridge-Cole surprisingly pulled a sickie, claiming his knee injury from the match earlier was too painful to bear. Ed Poulter kindly offered to keep him company back at the hostel but his plan to get out of more drinking fooled no-one and he was ordered to stay, much to his (and his girlfriend's) disappointment.
The second night was a real struggle and even several rounds of shots failed to spark much life into the group. Woolley did his best to enliven proceedings, leaning back against the bar, mouth wide open awaiting the shot lady, but even this proved of limited amusement and most people were back in their dorm by 4am.
On the Sunday, with the side now down to the bare bones following various football and non-football related injuries, the tourists caught a short taxi ride to the destination of their second fixture versus an apparently relegation-threatened Alsterbruder FC, a neighbourhood team whose home ground could be best be described as pretty rubbish - a dark pink shailstone pitch with no lines and 'rustic' style changing rooms.
Hopes were raised when the groundsman appeared but then dwindled again when it appeared as though he had enjoyed a better night than many of the tourists as strange lines sprang up on the pitch, several of them not entirely straight.
The match itself was a more low key affair than the previous day's, it would have been too much to expect anything similar. There was still a formal march onto the pitch behind the three officials and time for Hoffen to add some comedy into the handshake, repeatedly requesting the referee and linesmen (one of whom looked about six years old) to stick their chests out for the pre-match photo. It was only after the fourth time of Hoffen imploring them to breathe in that they realised they had a joker in their midsts.
Clearly the late nights and early morning were getting to the veteran striker as, after a nondescript opening half hour, he came onto the pitch and immediately struck up a not-so-friendly relationship with the defender marking him. Several fouls were given for and against the marksman but the spat reached its zenith midway through the second half, with the scores still goalless, when Harry, unhappy that a free-kick had been given against him, informed the referee that his opposite man was 'a dwarf, an elf, a hobbit' before helpfully acting out a hobbit-type creature for the referee's pleasure, just in case he had no idea what was being said.
With time running out and Harrow's most likely goalscorer busy with his animal impressions, the visitors remarkably scored two magnificent goals to win the match and leave the Germans genuinely quite annoyed. The first was a superb team move starting with a short throw out from Bobby Tindall and ending with substitute Woolley squaring for Ed Poulter, clearly Harrow's best player on the day, cutting inside to finish in the far corner. Harry Turner then made a late run from a short corner and scored with a stunning first-time shot which sailed into the top corner, making him the 'Pichichi' for the tour.
After the match a more basic BBQ was on offer. This consisted of a rather grumpy Father Christmas look-a-like wearily grilling some sausages on a slowly turning device located inside a squalid hut at the entrance to the ground. Tourists were puzzled when small strips of card were served with the wursts, until it became clear they were a basic substitute for cutlery. It was all too much for Hoffen, who dropped off to sleep only to be woken by Poulter's rather odd screech. Meanwhile Tindall amused himself by explaining to no-one in particular that the showers were like none he had ever encountered before and that standing under them for any length of time 'hurt'.
The afternoon allowed the group their only downtime of the Tour and they used the time wisely, sleeping, showering and working out how to get into their dormitories, the key cards consistently failing them.
Slowly tourists filtered out for the last night. Tindall entertained all with a few Harrow songs in the bar, the much anticipated duet with Poulter sadly failing to materialise.
Fred Richardson was one step ahead of the group having already made a restaurant reservation courtesy of a recommendation from the day's opposition captain Gunnar. The restaurant, a Greek/Italian taverna aptly named Taverna Romana offered a large terrace which was perfect for the group to enjoy a relaxed meal in pleasant surroundings. It is unlikely the other diners felt that way once the Ouzo began flowing and drinking games began. Clearly the ability to count from 1 to 21 stumped several people, most notably Coleridge-Cole, who was clearly feeling much better as his ridiculous high-pitched girlish laugh was now punctuating the atmosphere like a sword might punctuate a child's birthday balloon.
Tindall didn't hesitate to launch into several nonsensical speeches and took time to praise several of those present, especially Messrs Turner, Kerry, Gilbert and Poulter, whom he seemed very keen on, much to their consternation.
The behaviour soon degenerated and when the normally respectable Richardson began filling an unsuspecting Hoffen's trouser pockets with the contents of the salt cellar it was clearly time to leave.
The group left in style however, serenading head waiter Mario and then accepting the generous offer of another free shot from the owner, a large bearded gentleman quickly christened 'Socrates' by some wag. 'He used to be a wrestler' his wife strangely informed the group out on the street. With that useless piece of information tucked away for later, the tourists headed straight for the nearest bar across the street, only to be told before they had even opened the door that entry was 'verboten.'
So it was back to the Rieperbahn and a final visit to the Player's Lounge before the group split up and went their own ways.
The last morning allowed a late lie-in much to everyone's delight but there was still time for one moment of great amusement when Hoffen and Breeden, who had been strangely quiet on tour (perhaps due to only drinking whisky the entire time), put together a little 'package' for Messrs Richardson and Poulter to take through airport security with them. The taped together bottle of water, tube of lubricant and, er, plastic toy shaped like a you-know-what sent the x-ray machine into a frenzy, the security personnel into hysterics and Poulter and Richardson into acute embarrassment.
A fitting way to end a quite splendid tour.
Oh yes, and of course there was still time for the now traditional Weird List to be voted for. Unsurprisingly the top three consisted of Tindall, Hoffen and Coleridge-Cole in that order, Tindall averaging a splendid 9.7 out of 10 from his fellow tourists. Alec Fogarty earned a well-deserved fourth place on debut, with perennial weirdo Harry Woolley rounding out the freaks in the top five positions.
At the other end, the normally exceptionally weird Alex Cater received the first ever score of '1' from somebody, clearly his insistence on wearing pyjamas every night not being considered even slightly odd from his fellow Dorm B members.
Pity, they were such nice pyjamas as well.
See you next year.
year

2014

venue

Hamburg, Germany

tour captain

Fred Richardson
tourists
Fred Richardson

Jack Orr-Ewing

David Lederman

Bobby Tindall

Harry Woolley

Ed Poulter

Fred Coleridge Cole

Harry Hoffen

Ben Kerry

Harry Turner

Alex Breeden

Alex Cater

Alex Gilbert

Stof Magrath

Alec Fogarty
photos