Alexi Pittalis wins the 2021 Festiphil Cup
13 Sep 2021
Saturday saw the return of boys and OHs for the traditional start of season opener – the FestiPhil tournament. With perfect weather and four mixed teams of OHs and boys, there was a vibrant buzz of excitement as players, beaks and spectators gathered outside the Charles Alcock pavilion, with some looking to brush off the cobwebs, some keen to catch up with friends and others just eager to score some goals in this round-robin league competition.
The first pair of matches started in a surprisingly quiet manner with one onlooker remarking 'these are definitely both going to penalties,' but things sprang to life in the second half with a remarkable flurry of goals to enjoy. The pick of them was an audacious dribble and 20 yard lob over the keeper by former 1st XI skipper Alex Ellis (Rendalls, 2011) - it was just a shame it was into his own goal as the Purples went down 2-0 in their opener. On the other pitch, Harry Bick (Druries, 2008) scored a wonderful long-range effort that impressed the onlooking fans (especially a delighted Jackie Woolley!) to help the Yellows secure victory after going behind against the Reds.
Only one game went to penalties in the end, with the match between the Blues and Purples ending in a 1-1 draw. Drawn matches at FestiPhil end with their own version of penalties – a timed, hockey-style running start from outside the box, similar in format to the MLS. Tom Haworth (The Knoll) proved to be the hero in goal as the blues ran out winners, with Tom saving two of the penalties taken against him.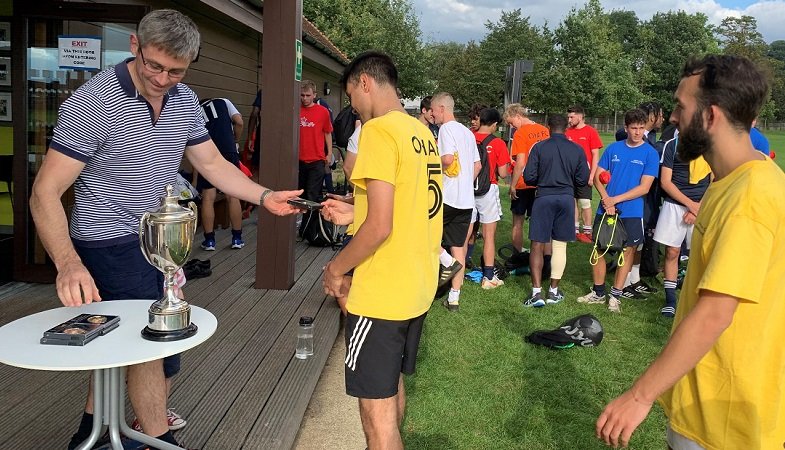 Overall, the standard and pace of the football was noticeable and impressive. It was clear that competitive football had been missed by all of those involved in the recent lockdowns. The atmosphere in the matches was another overriding success and it was clear that the OHAFC was being presented favourably to the boys as a way of playing competitive football after life on the Hill.
The competition came down to the final set of matches and a winner-takes-all fixture between the Blues and the Yellows. As they did in each of their first two games, the Yellows fell behind early in the first half only to storm back to victory in the second. The victorious side were captained by Alexi Pittalis (Rendalls 2007), who went up to accept the trophy for the first time in his OHAFC career, with Luke Walton (West Acre) named the Best Young Player after some typically buccaneering performances for the Red team.
All in all, a thoroughly enjoyable afternoon for everyone involved, with special thanks to the Beaks who gave up their time to officiate the games and OH Will Monroe for ensuring the organisation was as smooth as always.
Finally, many thanks to Dean Holt for this report.