Arthurian League Dinner report
17 May 2023
The 2023 Arthurian League Dinner was held at the Grand Connaught Rooms in Covent Garden last Friday night, with the OHAFC represented by six members, mainly from the 1st XI squad.
On arrival at the venue, the OHs were informed that they had been sat on the same table as the referees, so a strong charm offensive soon began! Fortunately, Elijah Marrs, Errol Barnett and League stalwart John Greenwood proved excellent company…
Following an excellent dinner of salmon followed by fillet of beef, new League President and Lancing Old Boys legend Nick Evans spoke on behalf of the League, Chairman Will Hoyle gave a rundown of the season just ended and then introduced the star guest speaker – BBC journalist and broadcaster Garry Richardson. Garry's speech highlighted some of the more amusing moments he has been involved with during his illustrious career, including an impromptu interview with then US President Bill Clinton in the Royal Box at Wimbledon during an extended rain break!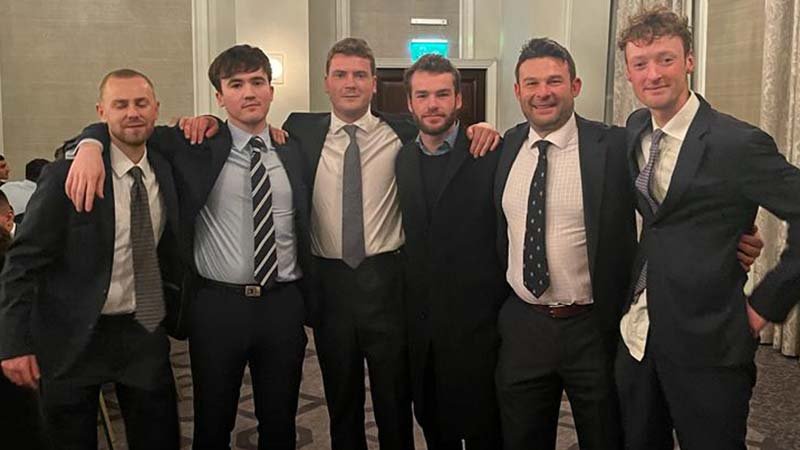 It was then time for the trophies to be handed out, with a late rumour swirling around the room that the OHAFC's late charm offensive on the referees present may have proved sufficient to see them snatch the Bill Chivers Sportsmanship Trophy at the death. Unfortunately, this proved to be nonsense, a possible figment of Will Payne's vivid imagination, and so, once more, the OHAFC were left empty-handed…an all too familiar feeling in recent years.
Nevertheless, the dinner proved most enjoyable for the Harrovians present: 1s skipper Dan Firoozan, Murray Barr, Fabian Dobree, Will Swan, Will Payne and club chairman David Lederman. Following several bottles of wine, lengthy discussions regarding a whole range of OHAFC and Arthurian League topics ensued, and startling Youtube video footage emerged of Murray Barr playing semi-professional football in Australia. The group then wandered off into the London night with a renewed determination ahead of the summer break and the 2023/24 season to come, Payne and Dobree stopping off at a mystery location they felt unable to share with the group...