The 2023 OHAFC Fantasy League winner is...
30 May 2023
The winner of the OHAFC 2022/23 Fantasy Premier League competition is...CHARLIE STEBBINGS!
Huge congratulations to Charlie, who held off a strong late challenge from Tristan David to claim the crown with an impressive total of 2,552 points - an average of 67pts per game week. Charlie, who didn't manage to make an appearance for the club this season, but who played twice for the 2s last season, led for most of the season, only to drop to second behind Tristan with five weeks of the season remaining. But Charlie's Gameweek 34 Bench Boost chip proved the catalyst to catapult him back to the top of the standings and a huge haul of 120pts in Gameweek 36 cemented his lead. Despite a relatively poor final showing on Sunday, Charlie's margin of victory was still an impressive 71pts over 2s winger Tristan.

Indeed, Charlie's final total of 2,552pts is the second highest ever recorded in the OHAFC League, behind only last season's winning total of 2,582pts from serial champion Ed Poulter, and enough to secure a place in the top 56,000 players in the game - most impressive given there are nearly eleven and a half million players worldwide taking part this season!
Vets stalwart Jon Ingram finished third with 2,471pts having sat in the top five for most of the season, but 3s midfielder Ed Stewart claimed fourth with a burst of strong showings in the final weeks of the season. The top five was rounded off by the 2020 champion Jack Alhadeff, with another former winner, David Lederman, in eighth - Alhadeff, Jamie Jordache and Miles Kellock all overtook the club chairman on the final weekend of the season.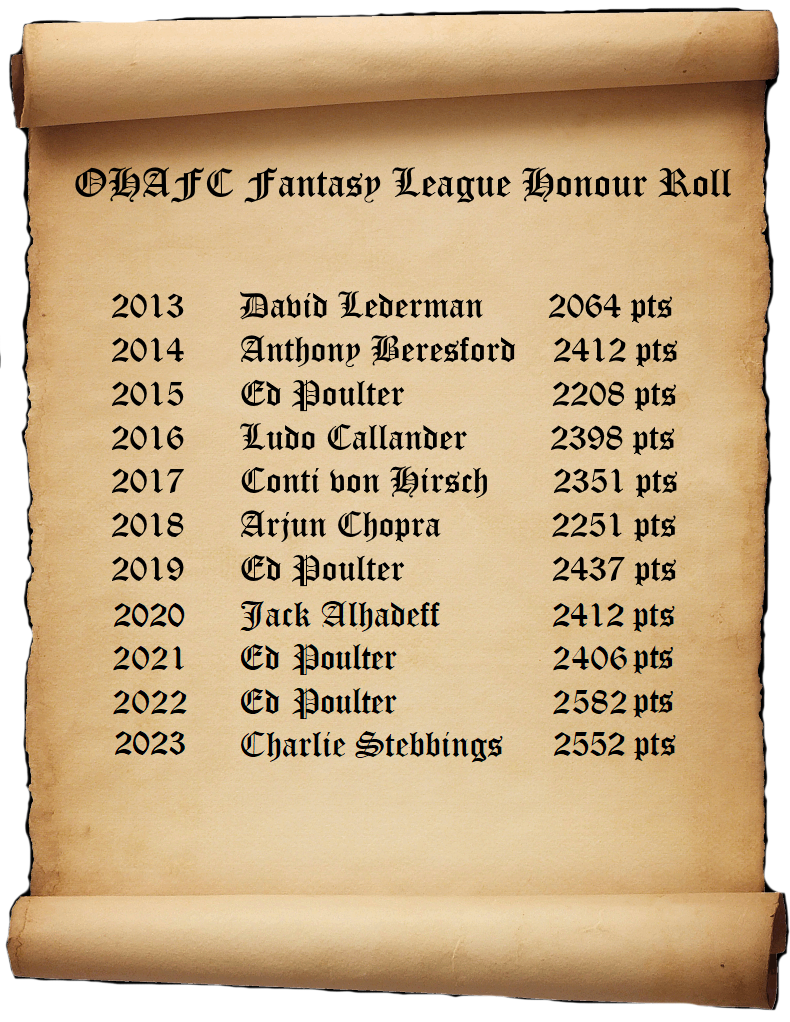 At the other end of the table, the wooden spoon was a closely fought over affair by two members of the 1st XI, with Ed Beecham's Beech Babes pipping Cyprian Owen Edmunds' Romero Close side to the worst total on the final day of the season - Cyp's score of 66 owed much to the excellent decision to triple captain Harry Kane, who shone in Spurs' comfortable win at Leeds, whilst Beech's final squad of 15 contained no fewer than ten players who failed to score a single point - perhaps an indication that, just like his beloved Arsenal, the fight had been given up long, long ago...
This season a record total of 32 OHAFC players past and present entered the League, with the fun set to restart again in just 11 weeks' time.
Thanks to everyone who entered this year, whether you did a Newcastle or had a bit of a Chelsea...see you again for 2023/24!